SHTFPreparedness may collect a share of sales or other compensation from the links on this page.
There is a lot more to knife sharpening that you may think, it takes some knowledge and skill to hone the edge of a blade. However, mastering this skill only takes attention to detail and the right, if not basic, tools.

If SHTF, it will be invaluable to have a sharp knife or the means to make it so. The ability to properly sharpen a knife is a skill that every prepper and survivalist should have. If your skillset is as sharp as your blade there will not be much you cannot accomplish in a survival situation.
The Survival Knife
We are looking for a few important things in a survival knife. Let's talk about them.
Fixed Blade
90 Degree Spine
High Carbon Steel
Non-Coated Steel
5 Inches Long
Sharpening and honing are two different things. Sharpening is the act of using abrasion to recreate an edge. Honing is the method of taking a pre-existing edge and lining it back up.
When you are sharpening you are going to want something like a whetstone. The Japanese whetstones are great and offer two sides of grit that allow you to create a razor sharp edge. This method is executed by simple running the edge across the most coarse section first until you have a sharp edge.
Sharp Pebble Premium Whetstone Knife Sharpening Stone 2 Side Grit 1000/6000 Waterstone | Best Whetstone Sharpener | NonSlip Bamboo Base & Angle Guide
Next, you run that edge across the less coarse side of the stone for a few strokes at the same angle you used on the coarse side.
After this, you can hone an edge. Or you skip the sharpening step and just go straight to honing.
Nothing hones a blade better than a handheld honing steel. You use this to pass the blade over, on an angle, to re-center the blade.
Start by working one side of the blade on the steel three times. Then do the other side.
Go back to the first side and run it down the steel two times. Then the other side.
Finally, do both sides once. At this point, you should have a honed edge. Feel it and test it.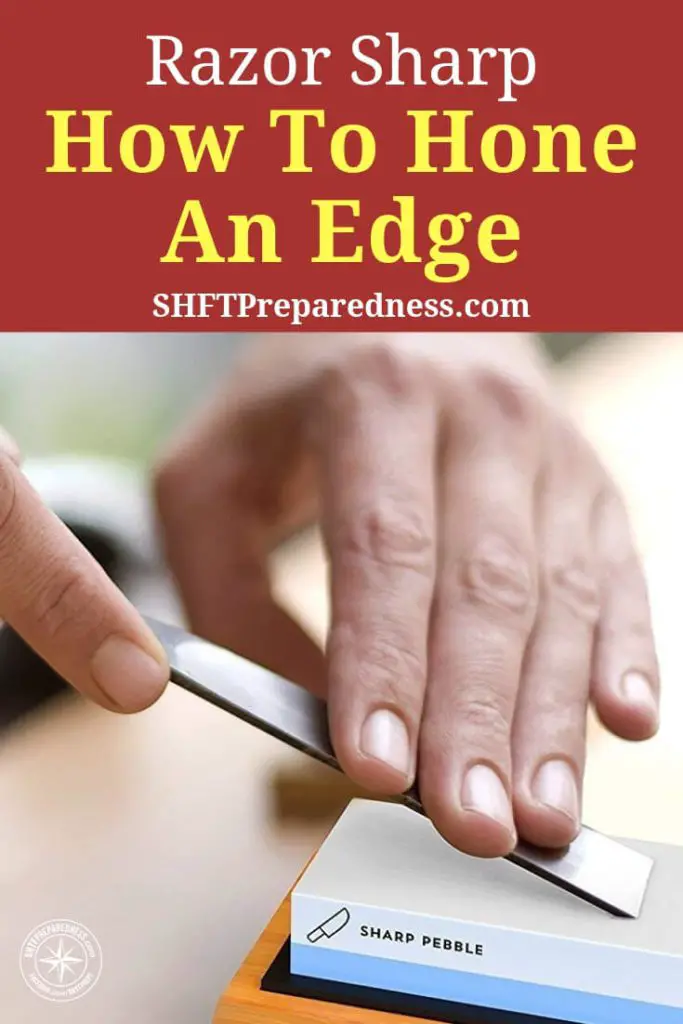 ---
Bonus: How To Grow a Backyard Supermarket
Having a backyard supermarket will allow you to grow pork and beef, chicken, organic eggs, non-GMO fresh fruits and veggies, including all the essential components you need to make your food staples, desserts, and even drinks.
If you are willing to put in a little elbow grease, this isn't too good to be true. The good news is that some of this can be automated.
Our great-grandfathers and great-grandmothers did this every single day. It's called "homesteading", and it can help you save money on food, furniture, tools, clothes, and much more!
This is as self-sufficient as it gets. Watch this eye-opening video to learn more:
Homesteading will take you back to the roots of your ancestors. It's not only a healthy, stress-reducing pursuit, it's a lifestyle.