SHTFPreparedness may collect a share of sales or other compensation from the links on this page.
One important part of prepping is making sure you have an economical mode of transportation in the event that we don't have access to gas. There are always biofuels, but large, heavy vehicles will guzzle these just like they do fossil fuels.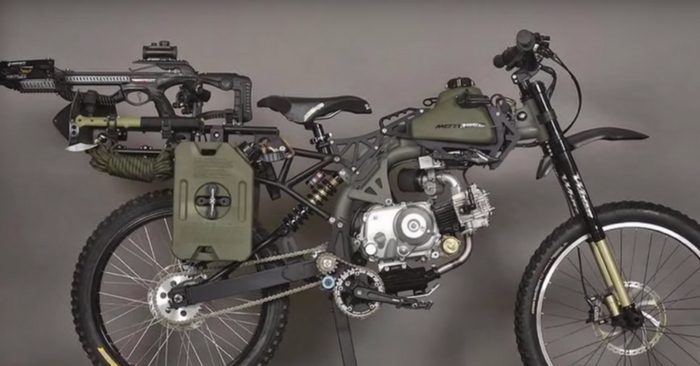 A practical solution is somewhere in-between, a smallish vehicle that can get you around with minimal fuel consumption. Motopeds has the answer with a bicycle-motorcycle hybrid that can get you around rough terrain with excellent fuel economy.
The models that Motopeds has designed range from basic to loaded, meaning that there may be a few harnesses for your equipment, or a full outfit complete with a climbing rope, survival shovel, an ax and even room for a crossbow.
The Bike Bugout Option
We have to be honest about what a bike can do for you.
You will never have shelter from a bike and you can be knocked off of your expensive bugout bike pretty easily. However, there are a host of benefits that might be exactly what you are after in a bugout situation.
This bike can carry up to 50lbs of gear and gas. That means you can carry 200lbs of gear, food, etc if you are bombing around as a family of four. That is impressive.
You can pedal the bike or you can pedal this bike or you can go about 400 miles at 24 miles per hour using the bike's motor. This is the most appealing part of this bike.
Essentially, in a clogged up highway, you will have the ability to get far away from the calamity on one tank of gas and do so at a steady pace that won't burn you out on calories.
You just might consider using this bike as your go-to bug out vehicle. Ultimately it's a personal choice, but the Survival Bike opens up a few more options for you.