SHTFPreparedness may collect a share of sales or other compensation from the links on this page.
Surviveware Survival First Aid Kit Hands-On Review
Accidents happen. That's why we prepare. Small accidents happen a lot! That's why we carry first aid kits. As preppers, we like to be ready for the worst that life can throw at us. The simple fact is, we are more likely to get a scrape or cut than a total failure of the grid. Our Surviveware Survival First Aid Kit review will make sure you are ready for life's many bumps and scrapes.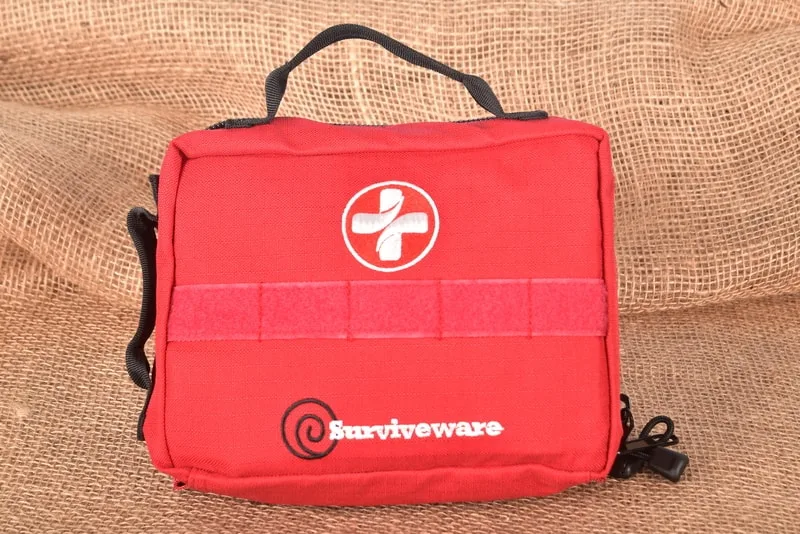 Who is Surviveware?
Janco and Amanda founded Surviveware after thousands of miles of traveling around the globe and to say nothing of the many hospital trips to get patched up and stitched up. With this experience behind them, they saw a gap in the first aid market. They then sought to make the best compact, portable first kits available.
In the past 5 years, they have already built both a name and a following for themselves. That is, they have sold to first responders and citizens alike. Especially, the small family nature of the business means that they remain dedicated to providing the best possible service to their customers.
Finally, they provide a full complement of kits from small to large first aid kits, to survival kits, to trauma kits. Additionally, they even have a full line of biodegradable items including wet wipes and compressed wipes.
Surviveware Survival First Aid Kit
Surviveware sells several medical kits from small compact form factors to full backpacks. Each has its niche. The Surviveware Survival First Aid Kit is a medium-sized kit that bridges the gap between trail medical aid and survival gear. Altogether, Surviveware has definitely geared this kit up to manage its fair share of emergencies.
Surviveware Survival First Aid Kit, Labeled Compartments, Removable MOLLE Compatible System, Red

We received a free Surviveware Survival First Aid Kit with one simple request. Provide an honest review of the kit and its contents. So here we go!
Why We Like Surviveware Kits
If you have any medical training from the Red Cross or in  TC3, first aid kits will be a personal endeavor for you. By the same token, I have thrown away or heavily supplemented more kits than not. It's nice to finally see a kit that doesn't need that much augmentation!
Balanced Contents
Most kits tout 1000 and one components when in fact 999 of them are band-aids.
The Surviveware Survival First Aid kit has a lot of components, but nothing I'd consider excess or abusive (in a marketing sense). Undeniably, you need band-aids, as you're most likely to cut a finger. However, in a survival situation, you also need light (they have two forms, flashlight, and glow sticks), a sturdy knife and a means for shelter (they have two).
Without reservation, this kit does a great job of providing quality content with no fluff.
Compact and Durability
The Surviveware Survival First Aid Kit is one heavy-duty little bag! For example, the pouch itself is made from durable 600 denier polyester. In comparison, I have backpacks that have lasted for years with lesser fabric.
Second, it's small. There is no wasted space in this bag.
Further, the bag is also water-resistant. While it's not waterproof, in most cases all you need is resistance to a little rain or a quick fall into a stream. Resistance is enough for this style of bag.
Organization
No wasted space because they have impeccably organized the bag. Every item has a home, and they have labeled that home.
Need to know where the knife is? Look for the pouch labeled knife.
Need to know where the biodegradable wipes are? Check the pouch with the green label.
You get the idea. Emphatically, I can say they knocked this category out of the park.
Value
Next is value for your prepper dollar. Medical aid kits are expensive. Especially if you want quality.
I have much smaller trauma kits that cost twice as much. My last kit was the best I could find at the time and it clocked in 50% more than the Surviveware Survival First Aid Kit and I still had to add to it. It turned out to be much less of a deal than this one.
Surviveware Survival First Aid Kit Contents
Let's look at the detailed contents of this bag.
Pouch
First, we need to look at the pouch everything comes in. Without a quality container, accessing and organizing the contents becomes difficult and reduces the overall utility of the bag.
600D Polyester Bag
Molle Panel
Individual Labeled Compartments
Personal Compartment
A place for everything, and everything in its place. I will say that there is room to add where needed. This includes the pouch for gauze swabs. I will be adding a bunch of 4x4s to this compartment.
Next are the attachment points, you need to mount or carry your bag. With this in mind, it has a full complement of Molle webbing and, if you remove that, you get a large hook and loop panel.
Medical Supplies
Next, this is where the bulk of the Surviveware Survival First Aid Kit contents live. As should be for a medical kit. Here's the list.
6" Shears
Tweezers
Triangular Bandage
Biodegradable Wipes
Tape
(1) Crepe Bandages
(5) Medium Butterfly Bandages
(2) Large Rectangular Bandages
(5) Large Butterfly Bandages
(5) Knuckle Bandage
(20) Standard Bandages
(5) Mini Bandages
(1) PBT Conforming Bandage
(5) Square Bandages
(3) Cotton Gauze Swabs
(10) Cotton Ear Swabs
(4) Safety Pins
(2) Splinter Removal Probes
(10) Cotton Balls
(6) Personal Laminate Baggies
Nitrile Gloves–Located in the CPR Pouch
Flashlight
The contents are what I would expect for a bag of this style and size. I'll get to how we can augment it in a few sections. Otherwise, I'm impressed with what they pack into this little bag.
Survival Gear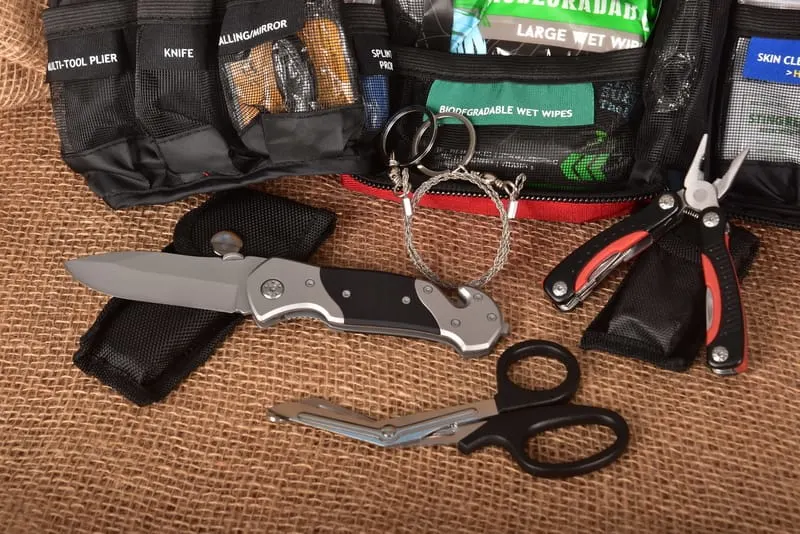 Third, is survival gear. This is where we cross the bridge from a medkit to a survival kit.
Paracord Bracelet with

Ferro rod and striker
Whistle

Knife
Wire Saw
Multi-tool
Signal Mirror
Glow Sticks
Poncho
Survival Blanket
Again, the only surprise here is that they have included these items in a first aid kit. One is none and two is one, as they say. And these items will double up your EDC kit.
Unique Features of Surviveware Survival First Aid Kit
Let's be realistic. You can go to Walmart and pick up a large first aid kit. It will have band-aids and some gauze. But what makes this kit worth the effort and money to buy?
Organization
They organized this kit like no other kit that I've seen. In comparison, my last kit had half the pouches and nothing but generic labels. When I seriously needed it (a friend walked into a door creating a 1 cm cut on their forehead) I spent 10 minutes going through the kit looking for something I thought was there.
That will not be an issue with this kit. The labeling is descriptive yet concise. Even as I pulled out the contents, I felt obligated to put everything back in its labeled home. The simple existence of the labels forced me to re-stock it according to the original scheme. This will not only benefit me but also anyone I ask to retrieve gear from it.
Ready To Use Survival Gear
The survival gear makes this kit unique. Yes, you can add a knife and Ferro rod to any kit, but soon you get into real money. The inclusion of the knife, Ferro rod, and paracord bracelet round out this kit nicely for me. I'll be strapping it on my BOB in place of the meager kit I have in there now.
Attachment Features
We preppers love our Molle! Give me a bag with some webbing and I'll find something to strap on it. The Surviveware Survival First Aid Kit is no exception. First, it has a hook and loop web on the front of the pack that allows for personalization (e.g., patches) or attaching a small accessory pouch.
The large panel on the back has several more webbing attachments and is fully removable. This gives you options. Want to strap it to the back of a headrest? You can do that. Want to strap it to your go-bag? You can do that. You get the picture. It's versatile!
Opportunities
Medical kits are personal and I'll admit that it's impossible to satisfy everyone. That being said, there are a few opportunities to improve on this already great kit.
Tourniquet
First, I would add a tourniquet. The exterior molle panel is the perfect place to mount this.
Tourniquets aren't needed often (if they are you're doing something wrong), but when they are, you need one now. Get a CAT tourniquet and strap it to the outside of the bag.
Thermal Blanket
Second, replace the thermal survival blanket. The included blanket is better than most, but it's still thin mylar.
SOL sells my blanket of choice. These are similar in manufacture to ripstop nylon. The included one took some effort to rip, but once it started, it continued to rip with ease. SOL has solved this problem.
Contractor Garbage Bags (yep)
Next, we need to recognize that more people die from exposure in survival situations than most other causes.
The survival blanket is nice, and I recommend upgrading it, but I'm a fan of large contractor garbage bags. With one, you can quickly improvise or improve a shelter. I'll be adding one to the "Personal" organizer.
Gauze
Finally, add more 4×4 gauze pads. When the bleeding starts, you will need a surprising amount of gauze to stop it.
I once severed a tendon in my little finger. I was through half a box of 2x2s before we finished the 15-minute trip to the hospital.
The good news is, their pouch for gauze is plenty big enough for a half dozen pads. A trip to CVS and $5 will solve this minor problem for me.
Using a Survival (First Aid) Kit in an Emergency
Managing most emergencies boils down to knowledge, supplies, and organization. Buying a medical aid kit will do no more for your first aid knowledge than buying a rifle teaches you to shoot. Get professional instruction!
The Surviveware Survival First Aid Kit definitely helps you with the other two critical links. First, this kit will support your knowledge with the tools and supplies you will need to patch yourself up or get yourself out of a pickle. From bandages to band-aids Surviveware has you covered.
Finally, remember smooth is fast. Just opening this kit, you see how organized smooth can be. There is no need to pull everything out to find that one critical item. Better yet, if you are the more experienced responder you don't need to walk your helpers through where or what to grab. Just tell them and they can easily find it on their own.
Surviveware Survival First Aid Kit, Labeled Compartments, Removable MOLLE Compatible System, Red

Final Thoughts on the Surviveware Survival First Aid Kit
Did I have to spend my own money to review this kit? No. Knowing what I now know, would I? Yes. Without a doubt, yes! This is a great little tactical first aid kit!
My own checklist of medical and bug out bag supplies just got a little smaller as, with this bag, I can remove some of the bulk and re-organize to take advantage of the components in this kit. Even better! Now, they'll be easier to find with the organizational scheme provided by the Surviveware Survival First Aid Kit.
For more reviews and to help you decide what to add to your medical and survival gear, visit our Survival Gear Reviews page.