SHTFPreparedness may collect a share of sales or other compensation from the links on this page.
When it comes to survival, which do you think is better: having fancy equipment (knives, flashlights, etc.) or having knowledge? Most people would immediately answer, "Of course the answer is knowledge!"
While the topic is certainly debatable, I'm a firm believer that knowledge is the best advantage you can have when in the wilderness.
And here's the reason why: you're not always going to have your fancy equipment in a survival situation.
For example, what if you fall into a river without your backpack and end up miles away from your original location with nothing? Or what if you lose your compass and/or map? Or if the batteries on your flashlight stop working?
I'm not making these situations up- these things actually happen in the wilderness, and they're more common than you think.
The last thing you want is to be unprepared when they happen. Remember, nobody knows that they're going to be in a survival situation prior to leaving their home (otherwise, they wouldn't have left).
Since you're not a fortune teller, you need to have the proper knowledge to save yourself when things go south.
For instance, you should be able to travel without the aid of a compass and/or map. You should be able to tell venomous snakes from non-venomous snakes, build a fire with your bare hands, make fishing spears, and even estimate the amount of daylight left using nothing more than your hands.
These are all skillsets that you can practice and learn about from home. Then, when you find yourself in a real life-or-death situation, you'll know exactly what to do.
As the old saying goes, "If you give a man a fish, you feed him for a day. If you teach him how to catch fish, you feed him for life".
Right now, I'm going to teach you how to catch fish (metaphorically and literally). Learn about these top 25 survival skills you should know and why!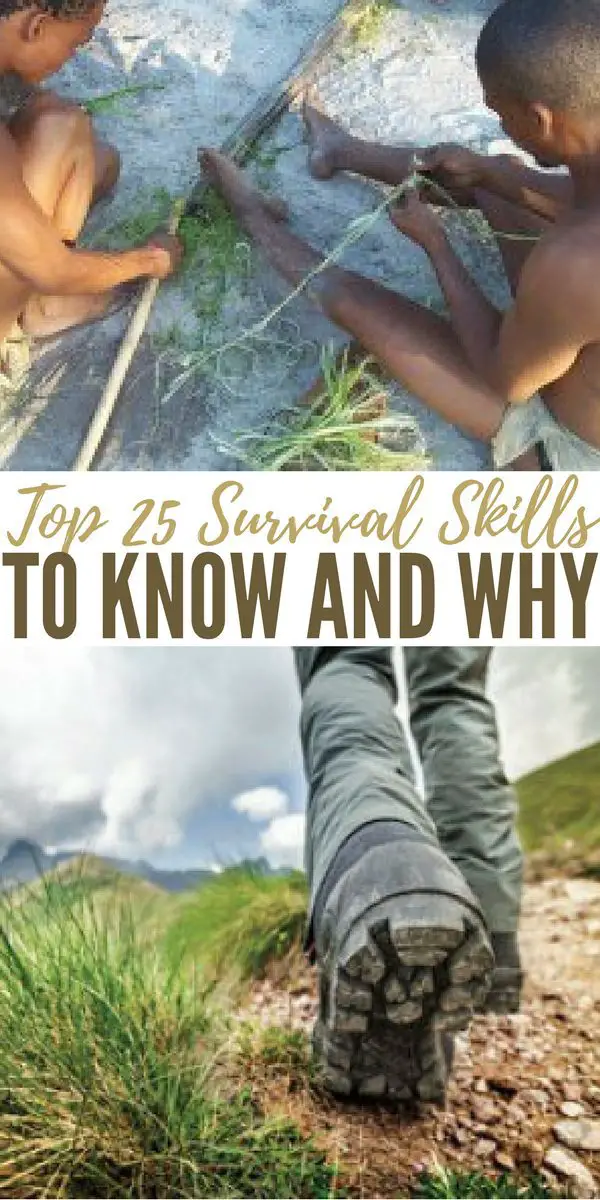 ---
Bonus: How To Grow a Backyard Supermarket
Having a backyard supermarket will allow you to grow pork and beef, chicken, organic eggs, non-GMO fresh fruits and veggies, including all the essential components you need to make your food staples, desserts, and even drinks.
If you are willing to put in a little elbow grease, this isn't too good to be true. The good news is that some of this can be automated.
Our great-grandfathers and great-grandmothers did this every single day. It's called "homesteading", and it can help you save money on food, furniture, tools, clothes, and much more!
This is as self-sufficient as it gets. Watch this eye-opening video to learn more:
Homesteading will take you back to the roots of your ancestors. It's not only a healthy, stress-reducing pursuit, it's a lifestyle.