SHTFPreparedness may collect a share of sales or other compensation from the links on this page.
Are you hoping to punch a tag this year? When you bring your animal home I am sure you want to fill that freezer. It can be a big help to have that meat lying around.
You probably want a trophy, too. Maybe some antlers on the wall? What about the rest of the animal? OF course, you are gonna leave some afield but what about the bones, organs and hide. Do you have plans for those?
Using the Bones
Native Americans would have used the bones to create tools and needles. You could go that route if you want. A great way to use the bones is to create a venison stock. You can do this by adding your bones to a large pot of cold water with things like onions, celery, and carrots.
Invest in a large stockpot if this is something you are interested in.
Your stock can be used to make soups, it can be used to make sauces and you can even braise or stew meat in this stock to turn tough cuts of meat into tasty tender morsels.
Eating the Heart
It's an important part of the animal. Many hunters shy away from the heart but it is a delicious organ if you know how to prepare it.
There are two methods that should be used to prepare hearth. You should slice it thin, 1/4 inch slices and grill it for a few minutes on each side, no longer!
Or you can cook it slow and low for hours. Either message is great and the heart is delicious.
Tanning the Hide
No garage? No problem. Tan your next deer hide for less than 30 bucks in your own bathroom. Michael did this inside his fifth-floor Manhattan matchbox apartment, so if space was an issue, forget about it… it can be done anywhere.
Knowing how to tan a hide is an important skill to have. Tanning or treating a hide with a tanning process ensures you'll end up with a supple piece of leather that can be used to make shoes and clothing or hung on the wall.
Gather a knife, a spoon, some plywood, your bottle of tanner, and a laundry rack. Oh, and don't plan on taking a shower for a few days.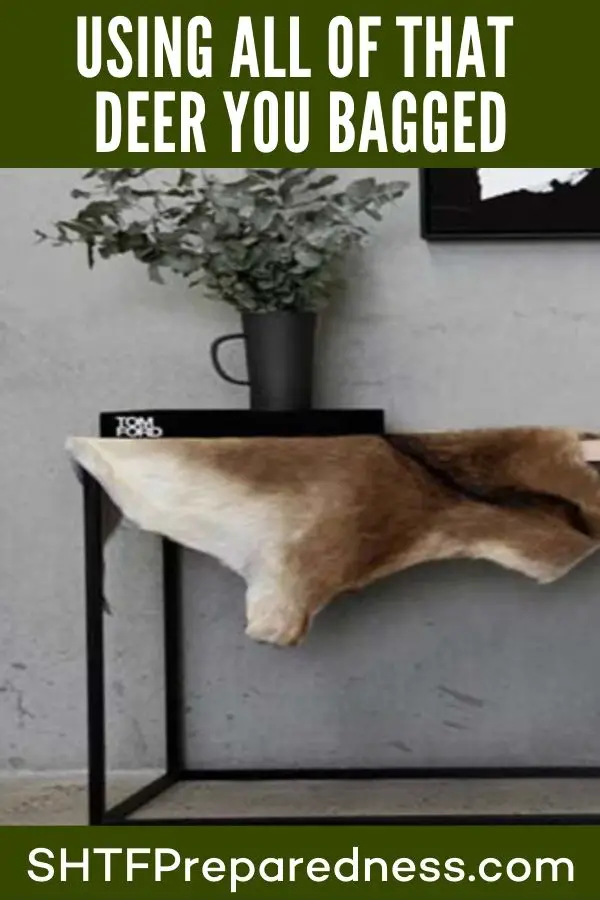 ---
Bonus: How To Grow a Backyard Supermarket
Having a backyard supermarket will allow you to grow pork and beef, chicken, organic eggs, non-GMO fresh fruits and veggies, including all the essential components you need to make your food staples, desserts, and even drinks.
If you are willing to put in a little elbow grease, this isn't too good to be true. The good news is that some of this can be automated.
Our great-grandfathers and great-grandmothers did this every single day. It's called "homesteading", and it can help you save money on food, furniture, tools, clothes, and much more!
This is as self-sufficient as it gets. Watch this eye-opening video to learn more:
Homesteading will take you back to the roots of your ancestors. It's not only a healthy, stress-reducing pursuit, it's a lifestyle.