SHTFPreparedness may collect a share of sales or other compensation from the links on this page.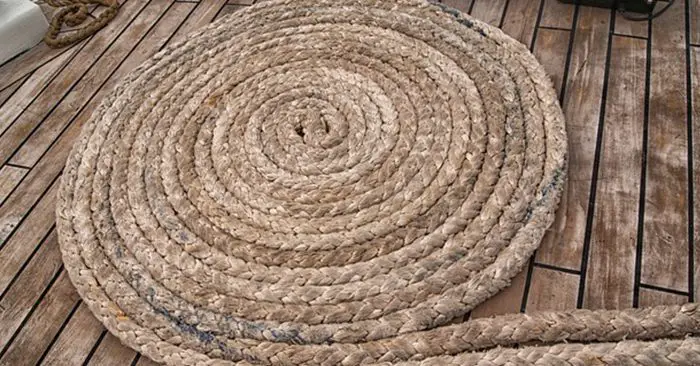 I guess you already know that rope may be made of any long, stringy, fibrous material, but generally is made of certain natural or synthetic fibers. Furthermore, the properties and performance of any rope are reliant on the materials from which they are made. So I would like to give you a short preview of what are the advantages and disadvantages of the best known natural and synthetic fibers.
This is how you can compare the key properties of the most frequently used materials and finally choose the rope that is right for your needs.
Natural Fibers
Natural fibers are usually categorized as either hard or soft. Hard fibers are obtained from the leaves of plants, while soft fibers are obtained from the stems.
Cotton
Advantages:
Natural cellulose fiber with high cellulose content (96%)

High resistance to sunlight

Absorbs moisture from the air

Resistant to solvents and weak acids
Disadvantages:
Flammable, they decompose at about 160°C

Sensitive to sulfuric acid
Manila
Advantages:
Durable

Flexible

Resistant to saltwater damage

Good resistance to sunlight, it will not melt easily

Exceptionally strong

Visually appealing
Disadvantages:
Shrinks when becomes wet

Expensive
Hemp
Advantages:
Natural, organic, biodegradable cellulose fiber – high wettability

High permeability to air which prevents mold and rot

High resistance

Resistant to solvents
Disadvantages:
Slightly flammable, sensitive to acids in general
Flax
Advantages:
Natural, organic, biodegradable cellulose fiber

Absorbs and easily yields moisture

Soft-touch

High resistance in wet condition especially

High permeability to air which prevents mold and rot

Burns without leaving any residue
Disadvantages:
Sensitive to acids in general
Wool
Advantages:
High capacity to absorb moisture from the air

Low conductivity to heat and electricity

The lightest natural fiber

High elasticity and increases with humidity

Allows UV rays

It hardly catches fire

Great for soundproof
Disadvantages:
Folds easily

Low resistance when there is humidity

Low resistance on concentrated acids

Attacked by moths
Synthetic Fibers
Nylon (Polyamide)
Advantages:
Exceptional dynamic features

Hydrophobic

Very poor water absorption

High resistance to chemical and biological agents

Resistance to abrasion

Good sunlight resistance

Rot-resistant

Maintains its superior strength while still being very flexible
Disadvantages:
Does not absorb sweat

Its strength becomes compromised when wet

It charges electrostatically
Susceptible to degradation in high temperatures
Polyester
Advantages:
Silky, pleasant to handle

Insulating

Resistant to depreciation

Resistant to microorganisms and chemical agents

Inflammable

High resistance to UV and abrasion

Close control

Moderate price

Stretch resistance

Retains its strength when wet
Disadvantages:
Does not absorb sweat

It charges electrostatically

High tendency to pilling

Quite stiff

Does not float
Polypropylene
Advantages:
Very soft and lightweight

Minimum stretch

Great thermal insulation

High resistance to oils, mold, mildew and chemical agents

High mechanical resistance

Not affected by bugs or mold

No loss of strength in water, does not absorb water

Inexpensive
Disadvantages:
Degrades in UV

Low abrasion resistance

Very slippery

It will not return to its original size after being stretched out

Solidity in low light

Sensitive to dry heat.

For all ropes, fibers are the building blocks. This is why you need to understand the different kinds of fibers before understanding the rope itself. All these advantages and disadvantages are important. But there is something more you should know. You should understand what makes a fiber industrial, and that is its "high breaking tenacity".
What does this mean?
Breaking tenacity is the breaking strength of a fiber as expressed via linear density. Simply: at what level of force will the fiber break.
This is measured by gpd – grams per denier. A denier is a unit of measure for the linear mass density of fibers. Fibers have a breaking tenacity between 5 and 15 gpd.
Here are some examples:
Manila has 3 gpd

Cotton has 5 gpd

Polypropylene has 6.5 gpd

Polyester has 7 gpd

Nylon has 7.5 god.
Conclusion
Choosing a material for a particular rope is a difficult task because each and every material has its own negative and positive points.
But knowing the features will definitely help you choose a rope for the specific use you need; from the simplest everyday use to the most complex application.