SHTFPreparedness may collect a share of sales or other compensation from the links on this page.
When you are in the wilderness then adding winter to the equation can spell certain death without adequate preparation.
Staying warm and dry are essential in the cold and having the correct supplies will make that much easier.
A winter survival tent is a must have for any prepper especially in countries with harsh winters where you may encounter below freezing temperatures.
Regular tents will not hold up with the cold and insulating your winter survival tent can mean the difference between surviving or not.
Ready To Go Emergency Winter Survival Tents
If you are in an accident and stuck in freezing conditions you will need an emergency shelter that can handle the elements. There are some ready to go options that you can buy and keep on hand for when disaster strikes.
This winter survival tent will keep you warm and dry in an emergency. A 2 person tent that is made of extra thick tear and puncture resistant material is waterproof and windproof and is up to handling the elements.
The interior of this tent reflects up to 90% of your body heat keeping you as warm as possible. An easy set up for this survival tent means that you will be able to be protected from the harsh surroundings as quickly as possible.
This lightweight option allows you to keep it on hand for when the worst happens and the fact that you can reuse it is an added plus.
If you have the space to store this winter survival tent option it will allow you to handle freezing temperatures with ease.
A 6 person tent equipped with stove jack for tent stove, wind-proof snow skirt with heat retention functionality to keep warm in cold weather.
The ability to add a tent stove can ensure you are able to survive for longer and keep everyone warm and dry.
This double layered, waterproof tent is a great winter survival tent candidate. It is designed to handle all 4 seasons including winter made with rugged 210T anti-tear checkered polyester.
It is water resistant and you can easily shake snow off after a blizzard as well. Comfortable and breathable this tent will allow you to fit 2 people with ease and setting up is a breeze.
You will be able to weather the storm in this winter survival tent.
Insulating Your Winter Survival Tent
If you have a regular tent you may be wondering how you can make it work as a winter survival tent and the main answer is insulation.
If you have the right inner linings then you can retain the bulk of the heat in the tent turning it into a powerful cocoon protecting you from the elements and the cold.
This inner tent can be used inside a regular tent as added insulation to convert it into a winter survival tent.
With its patented insulation technology it provides excellent temperature regulation for your tent in addition it acts as a blackout noise canceling tent for some extra features.
This modular tent is super quick and easy to set up and expands rapidly to full size. It is a super light and can be easily kept with you for a comfortable and durable camping experience.
Ensuring you have a warm, dry and comfortable bottom to your tent will certainly help to insulate it and retain its heat.
This quality blanket is a great way to insulate your winter survival tent. It has 2 layers and is both waterproof and windproof, the thicker fleece makes the blanket warmer and more comfy.
The leak proof quilting prevents slipping between the two layers making it ideal for the floor of your tent. The blankets' extra large size means you will get coverage with this option.
This blanket or emergency tarp can assist in insulating your winter survival tent with its excellent heat retention capacity.
With the ability to retain 95% of body heat it can turn your tent into a warm safe zone protecting you from the cold. The three layers make it sturdy and durable as an insulation option.
It is multipurpose and is insulated, waterproof, windproof, compact as well as lightweight. This option will keep your tent winter ready at an affordable price.
DIY Winter Survival Tents
You may find yourself stuck in the winter wilderness with just nature at your disposal and if that is the case it may be necessary to make your own winter survival tent with what you find in your immediate surroundings.
An A-Frame DIY Shelter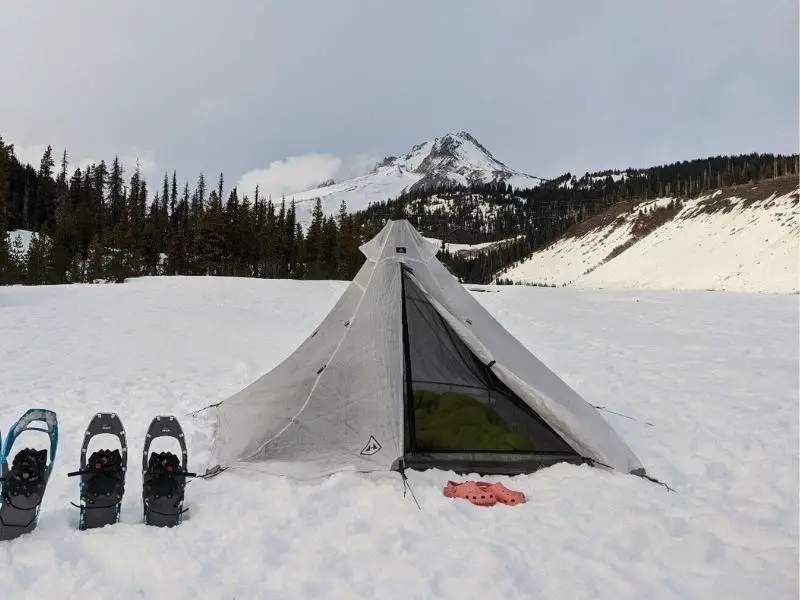 Find a suitable area to set up your handmade winter survival tent. You need clear space to be able to set up your shelter. Select a ridgepole that will be suitably strong and durable to be the center of your shelter.
Find arms for the ridgepole to provide adequate support for the structure. Next add smaller sticks to provide the main cover for your shelter.
Fill all the spaces and seal any openings that will expose you to the elements. Insulate as much as possible with natural elements like leaves and moss. It is important to insulate the ground as well to keep you as dry and warm as possible.
Conclusion
Whether you have a ready to go winter survival tent that you can pop open and use in an emergency situation or you are forced to put together a DIY winter survival tent there are plenty of options to keep you warm and safe in freezing conditions.
If you keep a level head and make sure to keep insulation and heat retention front of mind you will be able to survive through the winter cold should the worst happen.
Read Other Related Article:
---
Bonus: Root Cellar That Can Be Used as a Bunker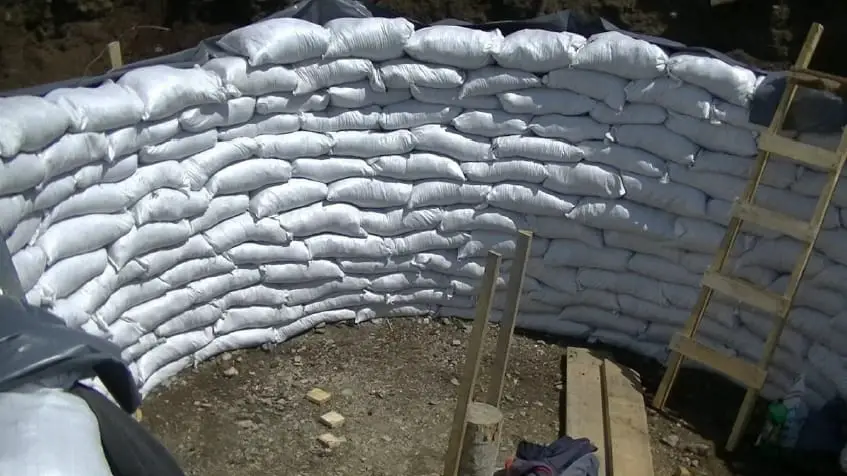 Do you remember the old root cellars our great-grandparents used to have? In fact, they probably built it themselves, right in their back yard.
If you want to learn how to build a backyard bunker like your grandparents had, without breaking the bank, then you need Easy Cellar.
Easy Cellar will show you:
How to choose the ideal site
Cost-effective building methods
How to protect your bunker from nuclear blast and fallout
How to conceal your bunker
Affordable basic life support options
Easy Cellar will also reveal how a veteran, with only $421, built a small nuclear bunker in his backyard.
Also included: