SHTFPreparedness may collect a share of sales or other compensation from the links on this page.
160 Reasons to Stock Coconut Oil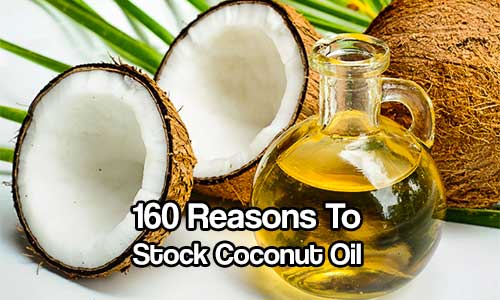 Coconut oil is magical in my opinion. I have been blogging about homesteading and self-reliance for many years now and I still come across new things you can do / use coconut oil for.
Coconut oil offers a wide range of health benefits, coconut oil is affordable, readily available and completely natural. You can use it for EVERYTHING… Literally. Buy it in 5 gallon increments and keep it all over your house. This is not a wasted investment. I have literally a cupboard full of coconut oil in my basement.
Did you know that coconut oil is great at blocking the suns harmful UVB rays? There is so much we still do not know about this wonder product.
I searched for hours looking for the cheapest coconut oil and I found these if you wanted to buy them. These both have the highest ratings and the cheapest price 🙂
Coconut Oil Is: Anti-bacterial, Anti-carcinogenic, Anti-fungal and Anti-inflammatory. So here is a little information to inspire you.
160 Reasons to Stock Coconut Oil