SHTFPreparedness may collect a share of sales or other compensation from the links on this page.
Growing food is critical to any version of prepping plans. You know, it is a limited part of your food supply because of the four seasons but, you can affect that. One of the best ways to affect that is to start growing food in a greenhouse.
Of course, most people struggle with this idea of paying hundreds of dollars or more to buy or fabricate a greenhouse. What if you could build a greenhouse for $50? Sounds pretty appealing, right?
It's possible.
We are going to look at creating a greenhouse for just $50 in this article. If you are interested in a list of ingredients, this is what you need.
What you will need!
Each Qty Total
$4. 23 6 $25.38 20′ x 3/4″ PVC schedule 40 plumbing pipe
$6.70 6 $40.20 1x6x8′ pt – ripped into 1x3s
$4.99 4 $19.96 8′ steel "T" fence post
$2.18 3 $6.54 2×4 stud – rip into 1x2s
$3.97 2 $7.94 1x4x12′ pt
$5.73 1 $5.73 2x4x16′ rip into 2x2s
$7.91 1 $7.91 20′x1/2″ re-bar – cut into 18′ lengths
$4.88 .75 $3.66 8″ nylon wire ties – 100
$5.47 .5 $2.74 1 1/4″ x 1lb drywall screws
$6.97 .3 $2.09 16 gauge galvanized utility wire – 200′ – for X braces
$2.97 .25 $0.74 3/8″ t-50 staples – 1000
$79.00 .22 $17.38 20′ x 100′ x 6 mil clear plastic
These materials can also be had on craigslist or yard sales. If you can find a number of these items elsewhere it will also affect your overall cost. The idea behind the $50 greenhouse has a little to do with how you source your materials, as well.
This greenhouse is a union between PVC and wood. It's a great design and the thicker mil your cover the more durable the greenhouse will be. For some of you, this list of materials looks a lot like a simple blueprint. You can see how these materials come together if you have that kind of builder's background.
For the rest of you, don't fret. You see, I also have a great list of steps for you to follow. This will walk you from the start to the finish.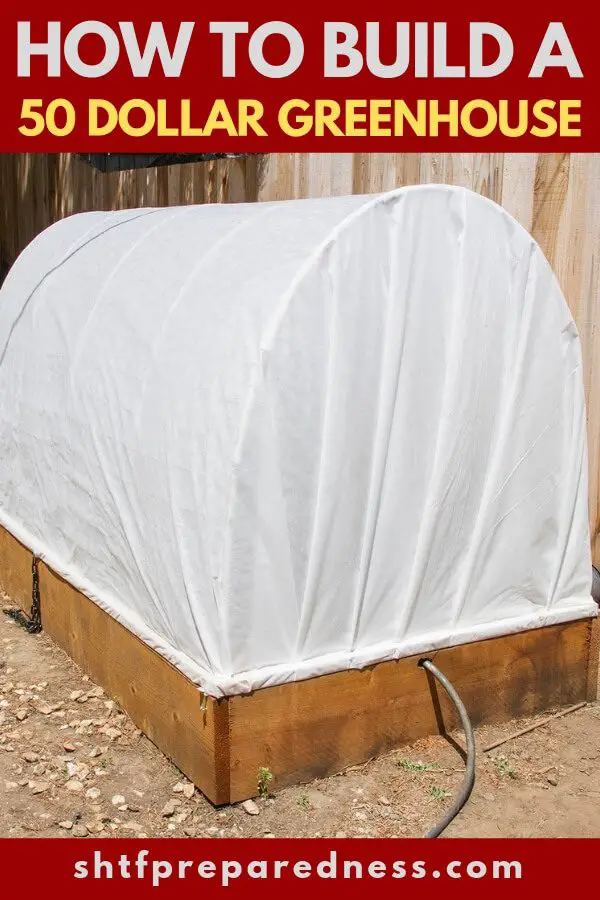 ---
Bonus: How To Grow a Backyard Supermarket
Having a backyard supermarket will allow you to grow pork and beef, chicken, organic eggs, non-GMO fresh fruits and veggies, including all the essential components you need to make your food staples, desserts, and even drinks.
If you are willing to put in a little elbow grease, this isn't too good to be true. The good news is that some of this can be automated.
Our great-grandfathers and great-grandmothers did this every single day. It's called "homesteading", and it can help you save money on food, furniture, tools, clothes, and much more!
This is as self-sufficient as it gets. Watch this eye-opening video to learn more:
Homesteading will take you back to the roots of your ancestors. It's not only a healthy, stress-reducing pursuit, it's a lifestyle.