SHTFPreparedness may collect a share of sales or other compensation from the links on this page.
Bottled water is definitely easy to come by when conditions are favorable, but it has a relatively short shelf life. Canning water is a great method to preserve water, and there's an easy-to-follow way to do it ourselves!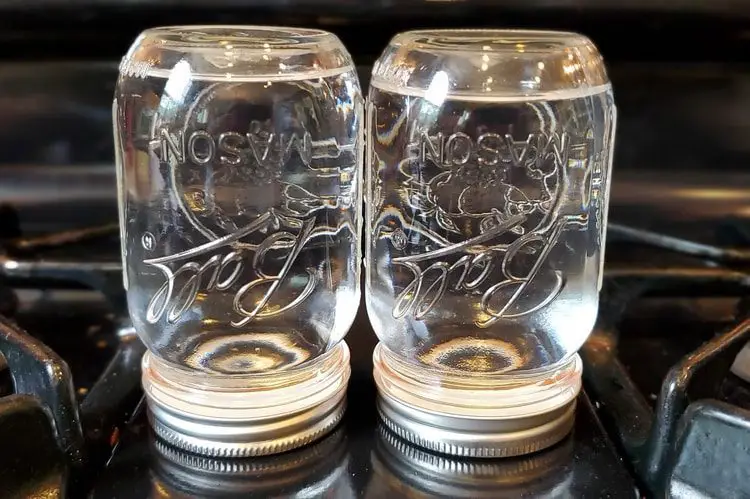 Stocking an emergency water supply is something everyone should do regardless of their situation. Natural disasters can disrupt water supply, contamination can occur with chemical or biological hazard leaks, and cold weather can cause pipes to freeze and burst.
Inversion Canning
Using 1/2 gallon jars is about the best method that you can use for this. You can fill the spaces in your next canning with jars filled with water. Place them, inverted, into the water bath in the empty spaces left. After 5 minutes you will have a serious seal on that water.
You now have sterile canned water. This can be used for hydration or it can be used to rinse wounds. Either way, its water on hand that you do not otherwise have.
Canned water not only lasts a lot longer than plastic-bottled water (a year or more!!) it tastes a lot better too. You won't have the plastic taste that comes along with bottled water that's stored for a while, plus you have control over the water source.
With just sealable jars and freshly boiled water, you can have plenty of water stored up to get your family through a tough situation.
Don't Just Depend on Canned Water
While canning water is very effective you have to have as many answers for water as possible. Things like water collection and storing water filters or purification tabs are essential to a well-rounded water storage program.
When water goes away the clock starts ticking. Don't be left without any answers.
---
Bonus: How to Make Pemmican, the Original Survival Food
Invented by the natives of North America pemmican was used by Indian scouts as well as early western explorers.
Native Americans spent a great deal of time on the go and depended on having portable, high-energy, highly nutritious, and filling foods that would last for long periods of time without refrigeration.
Pemmican is a portable, long-lasting, high-energy food. It's made of lean, dried meat that's crushed into powder and mixed with hot, rendered fat. This makes it one of the ultimate foods to have stockpiled for when SHTF or disaster strikes.
People really should avert their gaze from the modern survival thinking for just a bit and also look at how folks 150 years ago did it.
These guys were the last generation to practice basic things, for a living, that we call "survival skills" now.