SHTFPreparedness may collect a share of sales or other compensation from the links on this page.
Are you looking for a great DIY dog paw balm? The same as people, dogs can suffer from dry and cracked feet. Very hot and very cold temperatures will dry out and damage the pads of their feet and this can be really painful.
If your dog has been out walking on hot or cold temperatures without foot protection, this can also dry out the pads of their feet. (Remember: if you wouldn't walk barefoot on hot pavement, your dog shouldn't either!)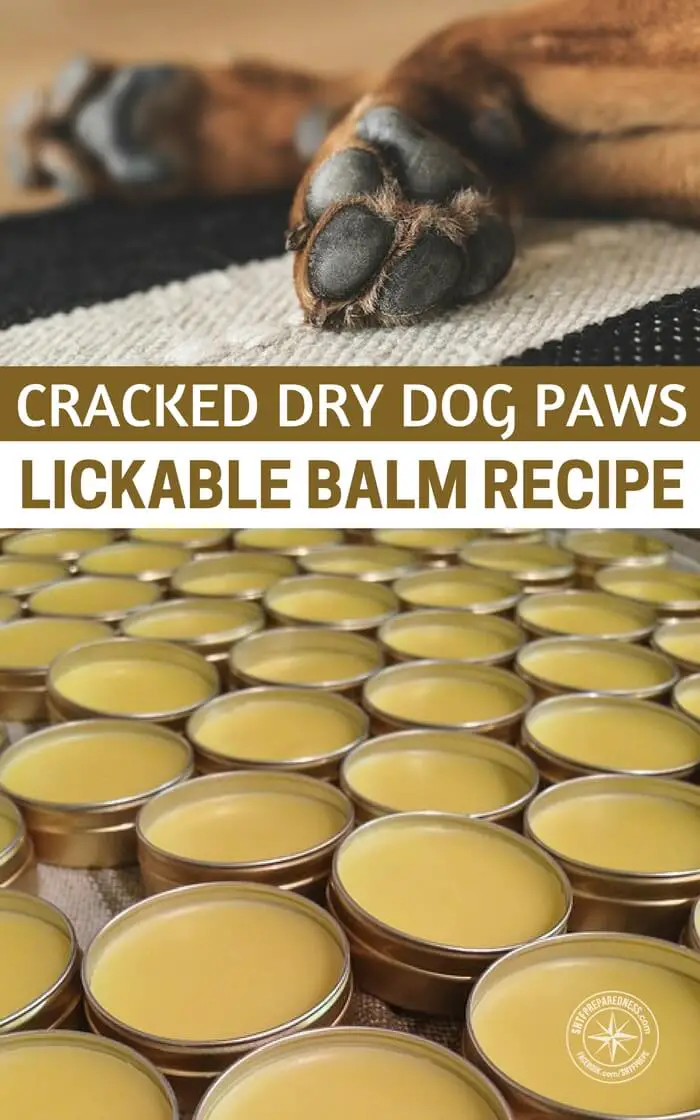 Why You Need a Soothing Dog Paw Balm
When humans suffer from dry, cracked feet, we turn to lotions or healing balms, right? But what can you do when your dog has the same problem? You need a soothing DIY dog paw balm!
When it comes to your preparedness rungs, you need to include your pets. What are you prepared to do to make sure they are part of your survival plan?
Maybe you've never really taken the time to think about it, but the truth is, your pets are family, too. And it's very important that you include them in your plan for preparedness.
Perhaps you have already thought about it… There is something about a DIY homesteader and their inherent desire to care for those around them that lead them to prepare for important things like this.
Caring for your dog means caring for his paws, too, and that's why a dog paw moisturizer needs to be on your list. If you're looking for a great dog salve recipe, stay with us because I'm going to offer you the one we use below.
One thing that we love about this paw soother recipe is that you can use it on their noses, too. It's natural and lickable!
It's made of completely safe, all-natural, gentle ingredients that won't harm your dog and that are very easy to find. No stressing about hunting for obscure ingredients that wouldn't be practical in a survival situation either.
Planning for Irritated, Dry or Cracked Dog Paws
Health
When prepping for a potential disaster or survival situation, you have to think about your dog's health as well. Don't just think that only your feet are going to be torn up in a collapse situation. We often think our dogs are more capable than they are.
The truth is, man's best friend can just as easily suffer pain in these situations. You should plan ahead to help mitigate this as much as possible.
Stamina
Think about your dog's stamina for a minute. Most of the time our dogs have energy even when we are tired. If you have a young dog or a particularly athletic dog, you've probably seen this in action!
They're like little kids – playful and seemingly never out of energy. Except, your dog can get winded and fatigued. Have you ever taken your dog for a serious hike? If it's hot you might find that your dog taps out earlier than you thought. They have limits, too.
As a responsible dog owner, it's important that you know your dog's limits and that you plan ahead for them. If your dog is part of your family, you need to be sure that you have the preps to keep them fed and protected.
Planning
Now, you can also make sure they carry their load but it's so important that they are cared for like any other family member. This DIY dog paw balm recipe is just one example of that. But when you sit down and do your planning, you should think of other ways your dog needs you to protect him or her.
There are so many benefits to having a dog in a survival situation. Dogs are incredibly effective as deterrents, they can make you and your family less likely to be a target. They will warn you if danger is approaching.
They are also wonderful companions that will give you and your family members emotional support. If you appreciate your dog and all of these benefits, you need to show it by caring for your four-legged friend properly.

Making Your Own DIY Dog Paw Balm Soother
If you're ready to make your own dog paw soother, you'll need to gather some ingredients.
These are likely things you already have on hand if you're not new to homesteading. But if you need to pick them up, they're easy to find and affordable.
You'll Need:
Organic Shea Butter By Sky Organics: Unrefined, Pure, Raw Ivory Shea Butter 16oz
100% Natural Vitamin E Oil 35,000 IU + Organic Rosehip & Jojoba Blend – 2 OZ Bottle
Yellow Beeswax Pellets 1lb by Mary Tylor Naturals, Premium Quality, Cosmetic Grade, Triple Filtered
Colavita Extra Virgin Olive Oil, 68 Fluid Oz
Viva Naturals Organic Extra Virgin Coconut Oil, 16 Ounce
Instructions:
You will also need a small pot and some Mason jars with a wide mouth (easier for pouring).
To make this homemade dog moisturizer, all you need to do is our all of the ingredients into a quart-sized glass mason jar and then place that Mason jar into a saucepan.
Add 4 inches of water to your saucepan with the Mason jar of ingredients inside.
Using a very low heat setting, you will slowly melt all the ingredients in the jar. Once everything is fully and properly melted down, you will carefully pour it into a smaller clean Mason jar.
Allow this to sit and fully cool before putting the lid on. You can do this in batches and create several jaws from this paw balm recipe for your dogs. If a survival situation arrives, you'll have them handy. It also means you can use it regularly for your pooch as needed, and you'll still have some on hand. It's easier to make it batches of several jars at a time.
It really is that simple! Just add the ingredients, slowly melt them down (it will look like a thin wax) and then pour into the clean jaw to cool and be stored. Voila!
Know Your Dog's Limits
We like to think that our dogs will always be there with us and while it's true that they are resilient animals, they still need looking after, too. Remember, our dogs are domesticated.
They are charming little beasts but to be honest, they are soft. They are not wolves and many of them are not prepared to make a trek of miles and miles, as may be needed in a survival situation.
You may scoff at this, but dogs get out of shape, too. They also age and develop health conditions, the same as people do with age. In addition to these things that can happen naturally for a domesticated pet, your dog can also experience an injury.
This is even more common in a survival situation where your dog may be pushed to limits he or she did not have to experience before. They get injured and their little pads get beat up. If you don't have an answer for that, then you may be left with very few options for Fido.
Start planning now – what seems like a luxury today could be a lifesaver tomorrow!
We hope that you will give this DIY dog paw balm a try. We love it and our pups love it. It's the best dog salve recipe I've been able to find. Of course, if you have your own recipe for homemade dog moisturizer, you can use it. In fact, we'd love it if you shared it with us. We're all in this together!
---
Bonus: Root Cellar That Can Be Used as a Bunker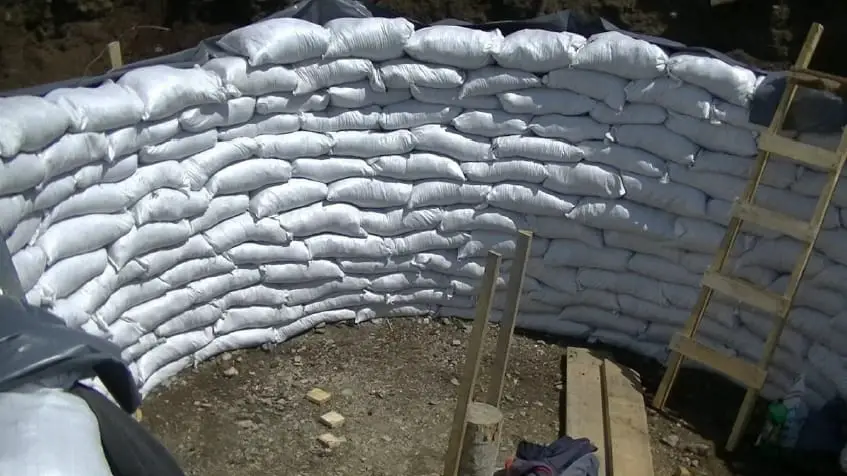 Do you remember the old root cellars our great-grandparents used to have? In fact, they probably built it themselves, right in their back yard.
If you want to learn how to build a backyard bunker like your grandparents had, without breaking the bank, then you need Easy Cellar.
Easy Cellar will show you:
How to choose the ideal site
Cost-effective building methods
How to protect your bunker from nuclear blast and fallout
How to conceal your bunker
Affordable basic life support options
Easy Cellar will also reveal how a veteran, with only $421, built a small nuclear bunker in his backyard.
Also included: