SHTFPreparedness may collect a share of sales or other compensation from the links on this page.
An easy DIY project we all could at least try and get some sort of blacksmithing skills before SHTF.
I love the simplicity of this forge set up. I think having a little knowledge of this old skill could come in very handy if SHTF. Not only is this skill a valuable trade today, in a SHTF situation, but you could also use these skills to barter with and make some pretty strong defensive weapons. Heck, you could even make small skinning knives to swords to barter with too.
On this setup, one sink is filled with cold water to quench the metal, but if you can only find a single stainless steel sink you could just fill a bucket of water and still be good. In fact, that may be easier, as finding a double sink may be difficult. I would check your local classifieds and maybe even the scrap yard and pick one up for free 🙂
A quick tip:
Low-carbon steel is fine for most projects, but high-carbon, S7 tool steel is better for shaping implements that need to hold an edge. here are a couple of great books on blacksmithing I would recommend. The Backyard Blacksmith by Lorelei Sims or Blacksmithing Basics for the Homestead by Joe DeLaRonde. I found a really great blacksmith 101 article that can explain the basics and also shows you how to build the pictured forge.
Easy DIY Forge Out Of An Old Sink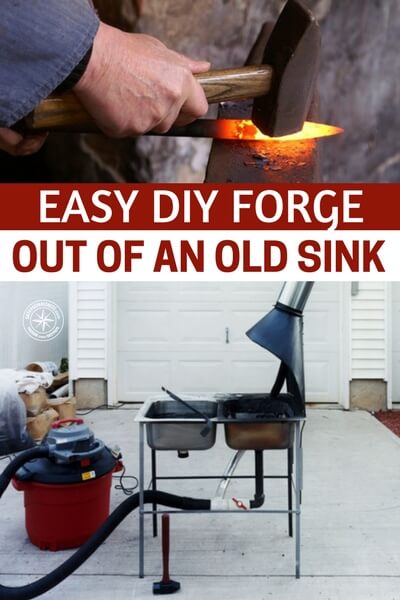 ---
Bonus: How to Make Pemmican, the Original Survival Food
Invented by the natives of North America pemmican was used by Indian scouts as well as early western explorers.
Native Americans spent a great deal of time on the go and depended on having portable, high-energy, highly nutritious, and filling foods that would last for long periods of time without refrigeration.
Pemmican is a portable, long-lasting, high-energy food. It's made of lean, dried meat that's crushed into powder and mixed with hot, rendered fat. This makes it one of the ultimate foods to have stockpiled for when SHTF or disaster strikes.
People really should avert their gaze from the modern survival thinking for just a bit and also look at how folks 150 years ago did it.
These guys were the last generation to practice basic things, for a living, that we call "survival skills" now.