SHTFPreparedness may collect a share of sales or other compensation from the links on this page.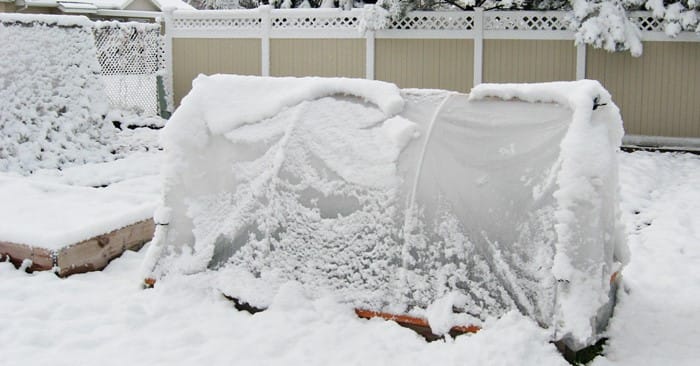 We love hoop houses here at SHTFPreparedness. You can count on a month and a half or so of extra gardening time in the spring/fall and you can continue to grow all through the winter with a hoop house. Even better, the portable variety of hoop houses can be removed when needed.
We have written about DIY PVC hoop houses in the past, which are really useful and cheap to make yourself. However, if you live in a cold and snowy climate, you may find the need for a heartier version. PVC hoop houses are great, but they may get crushed under the weight of heaps of fallen snow.
We came across a great article for a cold frame hoop house using concrete reinforcing wire mesh. Wire mesh is more robust than PVC and can withstand a greater amount of weight. It's also pretty cheap! You can get a 10' x 5' wire mesh for around $10 at your local home improvement store. You will also need some recycled lumber and plastic sheeting. Included is how to install thermal vents on the ends, which will open at around 50F and close at around 35F. These items, your tools and this video how to are all you need to get start with your own snow proof cold frame hoop house!
How To Make A Hoop House That Will Stand Up To Snow
---
Bonus: How to Make Pemmican, the Original Survival Food
Invented by the natives of North America pemmican was used by Indian scouts as well as early western explorers.
Native Americans spent a great deal of time on the go and depended on having portable, high-energy, highly nutritious, and filling foods that would last for long periods of time without refrigeration.
Pemmican is a portable, long-lasting, high-energy food. It's made of lean, dried meat that's crushed into powder and mixed with hot, rendered fat. This makes it one of the ultimate foods to have stockpiled for when SHTF or disaster strikes.
People really should avert their gaze from the modern survival thinking for just a bit and also look at how folks 150 years ago did it.
These guys were the last generation to practice basic things, for a living, that we call "survival skills" now.