SHTFPreparedness may collect a share of sales or other compensation from the links on this page.
Surviveware Trauma First Aid Kit Hands-On Review
Managing traumatic injuries requires a fair amount of skill. It also requires specific tools. Anyone can improvise these tools. Improvisation often leads to less success, and that means loss of life or limb. When dealing with life and death decisions, it's always best to have the right gear. Our Surviveware Trauma First Aid Kit review will gauge this kit for use during the most critical moments.
Who is Surviveware?
Janco and Amanda met while traveling far from their respective homes. Janco found himself an expert in hospital visits, which gave them both a unique perspective on medical preparedness. After a few years of building their relationship, Janco joined Amanda in the US and eventually became a US citizen. Shortly thereafter they formed Surviveware and began developing world-class first aid kits.
Today they offer over a dozen medical kits, survival kits, unique hygiene products, and supporting components. Lending to their backcountry traveling nature they even sell a line of biodegradable items including compressed and expandable wipes.
Surviveware Trauma First Aid Kit
The Surviveware Trauma First Aid Kit is just one of many kits offered by Surviveware. First aid often comes in layers. As you assess the patient from hemorrhage to scrapes, you apply the required treatments in the appropriate priorities.
Surviveware covers them all. From trauma (this kit) to small personal first aid kits, all the way to group-sized backpack kits Surviveware has you covered.
We received a free Trauma First Aid Kit with one simple request… Provide an honest review of the kit and its contents. So here we go!
Why We Like Surviveware Kits
Trauma kits can be utilitarian or specific. Each trauma kit I have purchased or put together represents where it is stored and used. From plate carrier, to cargo pants pocket, to travel bag.
The Surviveware Trauma Kit includes the essentials, a few pleasant surprises, and no fluff to get in the way. I'm very impressed with this kit and, as I will discuss in a bit, the only updates I will make are specific to my needs and training.
Organization and Priorities!
Situations with traumatic injuries require timing and efficiency of movement. If you want to save the patient, then you need access to the proper tools now! The Surviveware Trauma Kit puts the most essentials tools front and center. Once the kit is opened, you are first greeted with a tourniquet, gloves, and shears.
The trauma acronym that sticks in my mind is HABC. Diagnose and treat in order:
Hemorrhagic bleeding
Airway
Breathing, and then
Circulation
Hemorrhagic bleeding can render a person unresponsive in as little as 45 seconds and near death in 2 minutes. The tourniquet is front and center to address this need.
The other priorities are upfront as well. Shears allow for quick access through clothing for assessment. Gloves and glasses for personal protection. All other tools (flashlight, CPR mask, etc.) and supplies (compression bandage, gauze, etc.) are also visible and in their place.
Compact and Durable
Trauma kits do not need to be large. They need to be just big enough to contain the tools to manage assessment, personal protection, bleeding, and an airway and that's it. If it's too big, you won't want to carry it.
The Surviveware Trauma Kit is just the right size. While it won't fit in a cargo pocket, that's a slightly different kit. This one is perfect for the top of your Go Bag or strapped to the back of your car's headrest.
Second, it's durable. The construction of the pouch is of durable 600 denier polyester. The pouch will withstand the rigors of being strapped to the outside of your bug out bag or another pack. Add in the water-resistance of the bag and you can feel comfortable not having to baby the kit.
Finally, the version I received is bright red. No mistaking it for what it is and therefore no issues finding it when time is ticking.
Valuable Accessories
Every kit has differentiators within its contents. This kit is no different.
Tourniquet
The Recon Tourniquet is well made and familiar in its design. It has a metal windlass and a white windlass securing strap. On this strap, write the time.
Tucked into the windlass, and more importantly red is a small ballpoint pen to mark your application time. Second, the kit includes a black sharpie. Redundancy is key!
Finally, the tourniquet is in a UV protectant bag. Left unused, UV will be the biggest enemy of the tourniquet. This Ziplock bag is a great addition.
Shears
I have a few trauma kits. If I didn't make it from scratch, it's likely it didn't come with a set of shears and I've had to add a pair. This is not costly, but it is an annoyance.
The Surviveware Trauma First Aid Kit includes a quality set of shears allowing you to assess the patient quickly and effectively.
Value
It seems like everything medical is expensive. This trauma kit hits the right price point. Especially considering the quality of the components. Again, I've spent much more putting together my own specialized kits.
Surviveware Trauma First Aid Kit Contents
Let's look at the detailed contents of this bag.
Bag
Securing your kit components ensures they will be ready when you need them.
600D Polyester Bag
Molle Panel
Multiple Compartments
The exterior of the bag has several molle straps for external attachments. For example, if you want to mount your tourniquet externally, you have ample space to do so. Second, there are multiple Velcro panels for mounting informational (blood type) or motivational ("Embrace the Suck") patches.
Internally the pouch supports an efficient organization that emphasizes visibility of critical components.
Medical Supplies
Trauma kits are, by design, much slimmer in contents vs your normal first aid kits. No need for a surplus of band-aids here.
Surviveware splint 18
4" Emergency bandage
Emergency blanket
Trauma shears
Pressure bandage
Gauze pads – 7.5cm x 7.5cm 3 packs
Compressed gauze
Recon medical tourniquet
Permanent marker
Flashlight
Hygiene supplies
Adhesive dressings
Strip closures
As I've repeated a few times, trauma kits are personal. This kit covers all the essentials as well as includes a few band-aids.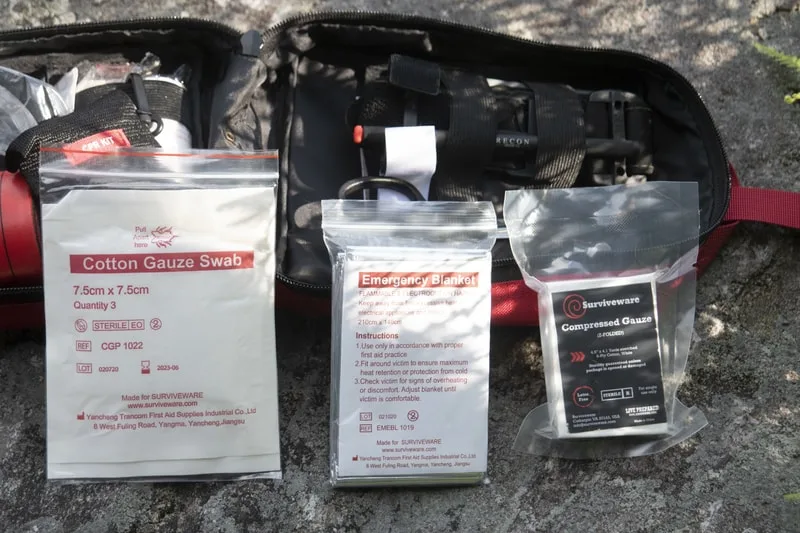 Unique Features of Surviveware Trauma First Aid Kit
Because of the small number of critical components, trauma kits all tend to be the same. The Surviveware Trauma First Aid Kit has a few differentiators that set it apart from the competition.
Organization and Visibility
The second you open this kit, you have the most critical items in front of you. Tourniquet, shears, flashlight, Personal Protective Equipment (PPE) (gloves and goggles), and CPR mask are all upfront.
Only the secondary materials (compression bandages, compressed gauze, emergency blanket, etc.) are relegated to internal pockets. Frankly, the hardest to get to materials are band-aids. That is as it should be.
Opportunities
Trauma kits are personal, even more than first aid kits. The trauma tools and techniques you will use depend highly on your level of training and mastery.
Never used a nasal pharyngeal airway? No need for it in the kit. Not certified in the use of a decompression needle? No need for one, either. That being said, I see only a few minor opportunities to improve on this kit based on my level of training, experience, and comfort.
Chest Seal
First, I plan on adding a chest seal.
I know I can improvise one and I have lots of practice doing so. That's not the issue. If someone else has to use my kit under my instructions, then I need the quickest path to success. That means a readily identifiable piece of kit. While not terribly cheap, I'll add two to the kit as soon as I'm able.
Gauze
I've quickly run through 4×3's managing a few traumas. They disappear quickly. There is room for a few pads and I intend to add all that the kit will take.
A quick trip to the local pharmacy will solve this problem. I might even just cannibalize one of my large kits, where I have several boxes already.
Thermal Blanket
Finally, I'll upgrade the thermal blanket.
With injury comes shock. With shock comes a drop in core temperature. The kit includes a mylar blanket that is, in all honestly, stronger than most.
That being said, I prefer the SOL brand of thermal blankets. SOL blankets are similar in construction to rip-stop nylon and are very, very resistant to tears. My original mylar blanket back 20 years ago ripped the moment I looked at it. Never again! I'll swap out this blanket before I take the pack into the field.
Nasopharyngeal Airway
If you've had training in the deployment of a nasopharyngeal airway device, then you will need to add one. That's an EMS level procedure and I would not expect to see it in this bag.
Everything else is well covered.
Using a Trauma Kit in an Emergency
Traumas are quick, emotional, and require a special mindset and training to address. Much more so than first aid you need to get training.
Training
The popularity of "Stop the Bleed" classes or other TC3-style classes makes this easy these days. Invest in training. I know that shooting classes are much more exciting. But consider this. How many car crashes have you passed (or been in) versus how many shootings have you been involved in? I'd be willing to place money on your answer.
YouTube is no substitute for quality, in-person, and hands-on training.
Tools and Supplies
Once you have the skills, you need the tools. Further, they need to be accessible, identifiable, and quick to deploy. This is where the Surviveware Trauma Kit comes in. Whether you are the first on the scene, or you are just there supplying support and tools, you still need a kit.
Traumas are not the place to improvise.
A proper tourniquet will always be better than a belt. You don't want to be in the position to pack a wound with a dirty tee-shirt. Have the right tools for the job.
Successfully managing a trauma requires speed and efficiency. You need to assess the scene (training), know what order to address the injuries (more training), and finally, treat the most critical conditions first (tools and supplies).
Surviveware Survival Trauma First Aid Kit, Organized and Fully Stocked for Safety in Emergencies

Final Thoughts On The Surviveware Trauma First Aid Kit
I have a few trauma kits. One on my chest rig. My plate carrier has one. Each of my go bags, work bags, and car glove compartments has one. There is no substitute for when you need one.
The Surviveware Trauma First Aid Kit will be a wonderful addition to this set of kits. I plan on adding it to my main commuter vehicle as that is the most probable location for me to encounter serious injury. In my years commuting I've encountered numerous accidents and have been among the first civilian to respond on two.
I am very impressed with the cost, contents, and organization of the Surviveware Trauma Kit. It very effectively scratches the itch between a minimalistic kit and a more comprehensive trauma/first aid crossover kit.
Check out our Gear Reviews to help you decide what to add to your medical and survival gear.