SHTFPreparedness may collect a share of sales or other compensation from the links on this page.
Storing food for an individual is often fairly straightforward and easy to put together. Emergency food storage for a family can be slightly more complex to manage.
More mouths to feed means added preparation is required to make sure the whole family can stay fed and well nourished.
Storage of emergency food for a family also requires smart and effective storage options to make sure that the food is stored safely and optimally.
3-Day Emergency Food Supply For A Family
Certain emergency situations may only last for a short while so a 3-day emergency food supply would be sufficient to sustain your family.
It is important to store your food items together in a suitable location that will be easy to reach if disaster strikes. The 3-day kit is one of the standard emergency kit durations you will come across.
Due to the fact that you may not have a cooking source available the easiest foods to keep are ones that can be readily consumed especially for a short time period. Think of items that are long lasting and that do not expire quickly.
Some great examples include:
Canned fruits, vegetables and meat that are ready to eat
For liquids think of storing canned or boxed juices, milk or soup (if powdered option, make sure to store extra water to make them)
Staple spices and additives like salt, pepper and sugar
Crackers, peanut butter, jelly, granola bars, trail mix, pasta. Any high energy food items that can sustain for longer periods
Special foods for younger or older members of the family or ones that have special dietary requirements
Nice to have food items like cookies, candy, cereals, lollipops, instant coffee and tea bags
Vitamins and prescription medications that are essential for family members health
It is important to remember can openers and knives or scissors to be able to open your food items when you need them. It is also important to store these items effectively and keep them airtight and dry to avoid them spoiling.
You can also eat and drink refrigerator items at least for the first couple days while they are still fresh. Be mindful to check the state of any item before consuming it both with a visual and smell check.
Make sure to consider all members of the family when making your selection of food storage items.
Two-week Emergency Food Supply For A Family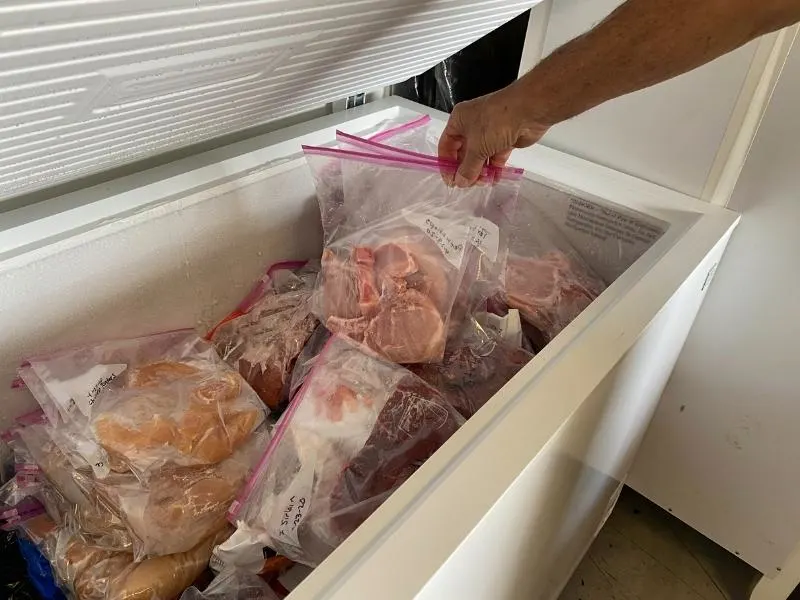 Some disasters may leave you without access to adequate supplies for a longer period of time. The next standard duration of time to prepare for is a two-week emergency food supply.
Having sufficient food and water for a 14 day period requires finer preparation and making sure you cover all your bases.
You can stick to many of the food options that you would include for a 3-day emergency food supply with some additional ones that will make your day to day more manageable for a longer period.
With added time you need to plan sufficiently so having your meals planned out per meal per day will make sure you have not missed anything.
Draw up a 2-week eating plan, knowing what you will eat may not be very imaginative but from a survival point of view this will be best.
Make a list of each family member and make sure you have catered for them from a dietary point of view but also from a medication standpoint.
Having a sufficient water supply is also essential for a 2-week emergency supply kit. Both for hydration and also food preparation.
Food items such as powdered soup and pasta will require water to make it so making sure you have enough water for both is a must.
Once again with a 2-week food supply it is important to eat food in order of expiration. Any fresh produce or refrigerated food items need to be consumed first within the first couple of days.
Thereafter your longer lasting items should be eaten. Items that have the longest shelf life should be kept for last.
Basic Emergency Food Storage Principles
Make sure that you are storing your family's food supply in the best way possible. This means finding an area that is dry, dark and cool.
Wet conditions will ruin your rations instantly. Sunlight and heat will denature your food items and often leave them inedible. Proper food storage is a key aspect of being prepared.
Quality food storage containers are also important in keeping your food supply at its best. Good containers that are airtight and seal sufficiently will keep your food from being exposed to air and being broken down.
Vacuum sealed items are also an ideal when it comes to food storage and will prevent oxidation and humidity changes to name a few. Your food supply is only worth having if the items are well kept and edible.
All In One Emergency Food Storage Kits
There are many options available that can make your food storage very simple and easy. All in one emergency food kits include preserved food items for breakfast, lunch and dinner that are either ready to eat or require some water to prepare.
Examples for both a 3-day and 2-week/1 month all in one emergency food storage kits can be found below:
Sale
176 servings of food carefully selected to nourish 4 people for 72 hours
Nutritionally balanced with breakfast, entrées, soups, breakfast, and low fat dry powdered milk
Averages 2,230 calories per day
4-gallon watertight pail is easy to transport
Great for home, cabin, motorhome, office or student dorm room
Easy to prepare, ready in minutes
Sale
ReadyWise Emergency Food Supply, Freeze-Dried Survival Food for Emergencies, Breakfast, Lunch, and Dinner Meals, 2 Grab-and-Go Buckets, 25-Year Shelf Life, 240 Servings Total
EMERGENCY SURVIVAL FOOD: Be prepared for the unexpected with the ReadyWise emergency food kit. This kit contains 2 buckets with 240 food servings that can provide you with delicious food with the optimum amount of nutrients to keep you going.
GREAT TASTE: Our emergency-food survival kit contains breakfast, lunch, and dinner meal options. Each food item is made from real ingredients with amazing taste. Our meals can provide up to 1,800 calories per day to keep your energy up.
DELICIOUS VARIETY: This food kit is made to last and can stay fresh for up to 25 years. It contains a variety of delicious meal options like soup, cheesy lasagna, savory pasta, and more. This kit also makes great backpacking and camping food.
EASY TO PREPARE: Each food item is packed into a durable long-lasting pouch that will keep it fresh for years. Simply open a pouch, add water to the food, stir, and cover. In 15 minutes, your food will be ready to eat.
BE READY: From emergency food to hiking and camping, ReadyWise shelf-stable food is there for you. We provide great-tasting easy-to-prepare meals, drinks, and snacks perfect for your pantry, for your next adventure, or when emergencies strike.
240 serving, 2 bucket survival food kit provides a delicious variety of ready-to-eat entrees and breakfast dishes, individually wrapped for convenience and freshness when you need them most
With a 25-year shelf life, our emergency foods are designed to withstand the test of time, reducing waste and worry when maintaining disaster preparedness kits
Large-quantity survival food kits can be stored at home, in your vehicle or your emergency shelter for long term emergency preparedness when you need it most
Easy to prepare in any situation, just add water, wait 12-15 minutes and enjoy delicious, hearty food – no cooking necessary
Contained in convenient, easy to store, stackable buckets lock together for storage without the need for shelving, food stays safe and secure so they're ready when you need them most
Final Verdict
When it comes to emergency food storage for your family, preparation is key. Knowing the needs of your family is the first step in order to make sure you have sufficient food, water and medical supplies whether it is for 3-days or 2-weeks.
Getting the right food items that hold well will ensure your family stays. Making sure you store your food supply correctly and in the right conditions will mean your food supply can really stand the test of time.
Efficiency is the name of the game when it comes to all in one food storage kits. These will cut your prep time down considerably and you will have well balanced options to keep you going.
If you take the time to prepare your family will be well fed in almost any circumstance.
Read Other Related Article: