SHTFPreparedness may collect a share of sales or other compensation from the links on this page.
Bananas are the most popular fruit on the market today. They are tropical fruits that require a specific growing climate to have success. Knowing how to dehydrate bananas will give you access to them year-round.
Do you know what a supply chain disruption is? It's when foods and resources are not delivered to an area because a part of the production and delivery process has broken. If we are talking about SHTF, your access to bananas is going to go away.
You can combat that by dehydrating bananas now for long-term food storage. If you do this properly you can store bananas for decades.
Maybe you've grown accustomed to that bright yellow shelf in the produce section. The banana rack that sells these delicious tropical fruits which is full each and every week.
We are moving into an age where growing food, the yield, and the shipping process are all going to be affected by the changing world around us.
We may not always have that massive section at the supermarket to pull fresh bananas from. Let's hedge our bets and learn how to dehydrate bananas.
How to Dehydrate Bananas
Learning how to dehydrate bananas is easy! The biggest burden will be the processing of those bananas. Most people don't dehydrate large batches of bananas at a time and that is ok.
Again, this can be a method used to eliminate food waste.
Preparing Bananas for Dehydration
To prep your fruit you are going to peel the bananas and cut them down into rounds. These rounds should be about ¼ – ½ inch thick.
If you like a thick banana chip you might even cut them thicker. There are no rules in this game but the thicker the banana the longer it will take to dehydrate.
Using wire racks or parchment you can lay your banana rounds out and then consider which method of dehydration you are going to use.
I have to imagine that the first dehydrated bananas were dried by the sun of Southeast Asia.
Let's see if we cannot find your perfect dehydrated banana recipe.
Solar Dehydration
Don't discount the power of the sun. There are incredible products on the market like The Sun Oven that will not only dehydrate foods but will also cook them!
A simple solar dehydrator will take those overripe bananas and turn them into delicious banana chips with no problem. You can even build a simple DIY solar dehydrator if you are so inclined.
There are also many on the market that would do a great job.
Dehydrating in the sun is going to take a couple of good sunny days in a solar dehydrator. If you have them spread out on racks you will wind up with great dehydrated bananas.
Remember, you are in control of this process. If the bananas are not as dry or crisp as you like, just leave them in there longer!
Oven-Dried Bananas
So, how long does it take to make dehydrated bananas in the oven? The good news is that its faster than doing it in the sun. Of course, speed isn't everything but it certainly helps in our fast-paced lives.
You are going to want to set your oven to the lowest setting possible. Most ovens have a position called WARM. If you have a restaurant-style gas oven, you might have a pilot light on at all times. That light will give off enough heat to dry those bananas out.
It is best to dry your bananas on wire racks but you don't have them you can use parchment-lined baking sheets. There is one thing to consider if you go in this direction.
The bananas are going to experience the drying heat on one side of the sheet. The other side will be laying in the liquid that is leaching out of the bananas because of the heat. Flipping those bananas halfway through the process will make a world of difference.
It might seem tedious but it's a big help.
Dry the bananas for about 8-10 hours and check them for doneness.
Dehydrator
If you have a dehydrator at home then this operation is going to be very simple. If you don't have one, check out our comprehensive Food Dehydrator Guide to make it easy to figure out which dehydrator is right for you.
Set your dehydrator to 135 degrees and line your racks with the prepped bananas.
Dehydrate them for 10-12 hours or until you reach that state of oneness that you like. If you are trying to make banana chips you want them completely dried out.
A dehydrator is built for the job and it makes everything easier. If you are committed to dehydrating bananas and other foods it's the way to go. Invest in a countertop dehydrator to make this process seamless and simple.
COSORI Premium Food Dehydrator Machine(50 Free Recipes), 6 Stainless Steel Trays with Digital Timer and Temperature Control for Beef Jerky, Fruit, Dog Treats, Herbs
9 Reasons Why You Should Dehydrate Bananas
Kids Project
The process of dehydration is like magic to kids. It's a great way to do something fun with them but also have a longer conversation on self-reliance and prepping with your kids in general.
Healthy Snack
What we reach for when we are hungry, during the day, has a lot to do with our health and wellness. Snacking can be one of the most dangerous things we do when it comes to our weight or it can be a very beneficial part of our diet.
If you know how to make banana chips and you reach for them over the potato chips it can make a huge difference in your life.
Trail Food
Do you hike or backpack? Well, homemade banana chips are great on their own or mixed into a more comprehensive trail mix. They are full of great nutrition and taste great, too!
Pet Food
Depending on the types of pets you keep, banana chips might be great to store and feed your animals. They can be great little treats for larger animals and more of a daily meal for smaller animals like hamsters.
Make Your Own Long Term Food Storage
If you know how to store your dehydrated bananas properly you can keep them for the long term. You must deprive them of moisture and oxygen and we will discuss that later in the article.
Create Unique Gifts
Dehydrated fruits can make for very interesting gifts. You might even look to gift some of that long-term food storage we mentioned above.
Pack in Bug Out Bags
There are a number of ways you can use your dehydrated bananas. There are many places to store them as well. A nice place for some DIY banana chips would be in your bug out bag.
Eliminate Fresh Food Waste
Do you ever eat all of your bananas before they go brown and start collecting flies?
On that note, do you know how to store bananas to prevent fruit flies? The best method is to dehydrate them!
Stop throwing away food and start dehydrating it.
Teach Others
Once you start traveling with your dehydrated bananas, people are gonna talk. Your coworkers might want a taste and then they will ask about the process. It might be a great opportunity to teach them how to dehydrate.
A Little Extra Money?
Maybe you could teach a local class on dehydrating bananas and other foods. Maybe you start selling that dehydrated food? You never know what the future could hold.
How to Store Dehydrated Bananas
There are a number of ways that you can store your dehydrated bananas once you have finished the process.
It all comes down to what you want to do with those bananas. As I mentioned earlier most people are not looking to dehydrate 10's of pounds of bananas at a time.
This means you are likely to wind up with small batches of banana chips to eat or mix into other foods.
That doesn't mean that you cannot use dehydrated bananas as long-term food storage. If that is your aim you can certainly use mylar bags and oxygen absorbers to make that happen.
(50) 1-Gallon Genuine Mylar Bag + (60) 300cc Oxygen Absorbers for Long Term Food Storage
How long Do Dehydrated Bananas Last
The shelf life of your bananas is going to depend on the type of storage container and the method you decide to use. There are three ways most people will store their dehydrated bananas.
Ziploc
The first is the classic Ziploc bag. If you use these bags to store your dehydrated bananas in your pantry you will get one good year out of these.
After a year your banana chips will begin to break down. They will physically get more brittle and begin to turn to pieces and powder.
Freeze
You can also freeze dehydrated bananas. The dry environment of the freezer is a great environment for dried foods.
The taste and the texture of your dehydrated bananas will suffer after a year. They will start to taste like the freezer.
Mylar Bags and Buckets
If you place your bananas in mylar bags with oxygen absorbers and store them in buckets, you will get more than 10 years out of these dehydrated bananas.
Again, you are going to be able to store them this way but you might not need to. You will likely eat these up fast!
Health Benefits of Bananas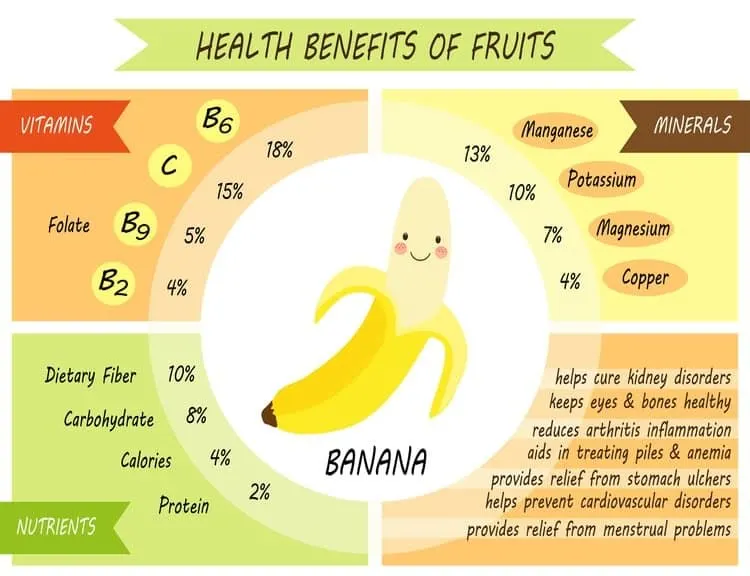 While you might think of South America and the Caribbean, bananas are actually native to Southeast Asia.
There are many types of bananas and the type we eat is known as cavendish. You might have seen the smaller brown varieties, too.
Bananas are so full of nutrition that it's hard to believe. They contain things like potassium, huge amounts of Vitamin B6, great fiber source, and also Vitamin C.
So, what are the health benefits of bananas?
Digestive Health
While bananas are creamy and smooth in texture they actually contain two types of fiber that are very beneficial. The first is pectin and this is a naturally occurring fiber in many fruits. It's also used to make preserves and jams.
The second is called resistant starch. This is the good stuff for gut health. It evades digestion in the small intestine and feeds beneficial bacteria in the lower intestine.
Blood Sugar
The same fiber that nourishes your healthy gut bacteria also slows the digestive process of sugars. Bananas are obviously not sugar-free. However, they break down slower and will not trigger an insulin spike the way that processed sugar calories can.
Fitness & Weight Loss
When you work out the energy from your muscles is expended. That energy is called glycogen. After a workout, you need to replace that energy. That is how your muscles begin to recover and get stronger!
The banana is a great food to eat right after a workout. Don't forget it is also chock full of vitamins and minerals.
Additionally, eating more bananas and other fruits high in fiber has been linked to low body weight and weight loss.
Heart Health
The banana is known for its potassium content. Potassium is well known to help fight high blood pressure. If you know someone who is fighting high blood pressure they are likely on some sort of potassium supplement.
A diet high in potassium has been shown to combat heart disease in general.
Banana Peel
Don't throw away those peels either! They can be used for all sorts of things, Do you know the benefits of banana peels?
They are great for teeth whitening. Peels can be used to tenderize meats but they are also eaten around the world. Most cultures cook them first to make them more palatable.
The banana peel is a great source of fiber and even contains a mood-enhancing amino acid called tryptophan.
They are also great in the garden soil, they help with bug bite relief and you can even use them to polish things.
Conclusion
Bananas are an absolute nutritional powerhouse. They are a tropical treat that travels from a different hemisphere and we don't mind because they are so tasty.
Learning how to dehydrate bananas gives you the ability to store them for the long term or eat them in a different way.
There are many reasons to dehydrate bananas. If you take this DIY project on, it will give you another dehydrated fruit to add to those you can dry and store for tomorrow or store for the long term.
Never forget, the process of drying and preserving food is nothing new. It's merely a process that we have decided to leave behind. Well, it might be time for a resurgence.
Simple Homemade Dehydrated Banana Chips
Total Time:
10 hours
5 minutes
Banana chips are a simple and delicious gluten-free treat that even your kids will love!
Instructions
Set your dehydrator temperature to 135°
Peel bananas
Cut into ½ to ¼ inch rounds (1)
Line dehydrator racks with banana rounds
Dehydrate for 10-12 hours, or until your preferred level of dryness is achieved (2)
Notes
Thicker banana chips will take longer to dehydrate and will generally be chewier
If you are planning to store the banana chips, you will want them completely dried out with no moisture remaining
Recommended Products
As an Amazon Associate and member of other affiliate programs, I earn from qualifying purchases.