SHTFPreparedness may collect a share of sales or other compensation from the links on this page.
Preparing for the worst is becoming more and more necessary these days as the world experiences an increase in global changes. Who knows what's to come in the future?
What is sure is that we need to dot the i's and cross the t's and be prepared for surprises.
If you're prepping, take a look at this article on how to prep yourself and your loved ones with the best gear to cover all the bases: water, light, energy, cooking, and tools.
Our Best Prepper Gear Product Reviews and Comparisons
1. GeoPress 24 oz Water Purifier Bottle
Product Highlights
When you're in a survival situation, forget breakfast! Water is the most important meal of the day. Sometimes that meal involves finding dirty water or even using your own urine.
However, this bottle makes that "nasty" dirty water into clean, drinking water. What's more, it also serves as a water bottle so it filters and can be drunk from the same place. 2-in-1!
Another great aspect of this company, in particular, is that they give back to the environment and pledge 1% of their sales to the preservation and restoration of nature.
Features
Ceramic
24 Fluid Ounces
Comes in a variety of colors
What We Like About the GeoPress 24 oz Water Purifier Bottle
This bottle is incredibly versatile and portable. It doesn't require pumps, hoses, sucking straws, batteries, or chemicals to clean – regardless of the type of water.
Plus, it not only filters, but also cleans out the particulates (e.g. sediment, silt, microplastics), many chemicals (e.g. chlorine, benzene, chloroform), and heavy metals (e.g. lead, arsenic, chromium) from your water.
In any survival situation, this is essential. As one reviewer commented, " I drank tainted bathroom water all over Southeast Asia for 2 months…" commending the product on how well it works.
What We Don't Like About the GeoPress 24 oz Water Purifier Bottle
While the bottle does come equipped with a replaceable purifier cartridge which is usable for 65 gallons (250L), it does mean that if you're planning to be bogged down for a long time and need to purify a lot of water for a long period of time, you better prepare for needing to replace cartridges.
However, pre-filtering dirty water sources with a cloth such as a clean rag or T-shirt helps extend the life of the filter to last longer which is a plus.
Another issue many commenters said was that the filter leaks. However, several went back later and amended or left an additional comment on the fact that they hadn't tightened their filters correctly the first time.
Pros
Tasteless water (no aftertaste of bad, dirty water)
Clean water in less than 10 seconds
Easy-to-carry-around water bottle design
Cons
Fresh water only (no salt water filtration)
Requires filter change after 65 gallons of use
Product Highlights
Compared to the GeoPress water bottle above, this purifier is different in that it's smaller.
It's great for when you have a small amount of water to filter or want to drink directly from a stream. It's essentially a glorified straw in terms of design and a great, 5-star water filter in terms of use.
Held to high-quality standards, this straw filter is rated to filter up to 100,000 gallons of water per straw.
Features
Plastic
Item Dimensions (LxWxH): 4 x 12 x 8 inches
Purification method: Hollow Fiber Membrane
Fits in your hand, weights 2 ounces
What We Like About the Mini Water Filtration System
This water filter's size makes it easy to have on the go and connects to almost any water system to easily drink while purifying water in the process.
The filter removes 99% of all bacteria, such as salmonella, cholera, and E. coli; protozoa, such as giardia and cryptosporidium; and also 100% of microplastics.
Another great aspect of these filter straws is that the company wants the best for their customers; 100% of products sold are individually tested three times to performance standards by Sawyer to ensure quality and efficiency.
What We Don't Like About the Mini Water Filtration System
Unfortunately, the variety of colors costs more money. In some cases, it's cheaper to buy 4 individual straws than the 4-pack of variety colors offered by the company.
While it does a great job of filtering larger particles, some reviewers commented on how it doesn't seem to filter the teeny tiny particles (chemicals, pollutants, pesticides, virus, and heavy metals) as they saw them in their water after "filtering".
However, there were few reviewers and most rated the product with 5 stars overall.
Pros
Compact and lightweight
Filters A LOT more water than other filters (before needing a filter change) – 100,000 gallons
Cons
The filter bag which comes with the straw is poorly designed
The water bottle attachment doesn't fit all bottles.
Product Highlights
One never knows when the light may go out.
Candles are a sure-fire way to get light – especially since they only require a bit of fire / a match to get going compared to a solar flashlight which requires extended sunlight to charge or a regular lithium battery flashlight which requires batteries (and spares, just in case).
That said, if you aren't able to make a fire, this article will lay out some great ways to light a candle without matches or fire.
Features
Unscented
Long burning technology
Smoke-free burn with lead-free, 100% cotton wicks
Variety of sizes
What We Like About the Pillar Candles
These candles are versatile and can be used just as easily for decoration as for emergency preparedness.
They also come in a variety of candle sizes – all of which come in a 6-pack)- 3×3 (burns for 18 hours), 3×4 (burns for 35 hours), 3×6 (burns for 65 hours), and 3×8 (burns for 80 hours). Plus, they're unscented which is great if you're stuck in a small space and can't stand fragrances.
What We Don't Like About the Pillar Candles</h4.
Unfortunately, these candles have a reputation to burn strangely… Whether it's not burning straight down the middle of the wax is a bit weird on the wick. This also indicates poor quality of the material.
However, the majority of reviews are 5 stars for these long-burning candles.
Pros
No batteries or solar charging required
Long-lasting
Unscented
Cons
Matches or a lighter necessary
Eventually they run out and burn down
Product Highlights
It's undoubtedly awful to be stuck without power to charge your phone which means no communication/radio nor light source. However, this LED flashlight fixes that.
Powered by an array of sources, it works not only as a powerful flashlight but also as a weather radio and a phone charger (or regular USB-device charger).
This saves you from just about any situation!
Features
Powered by: corded-electric; li-ion battery; solar; hand crank
LED flashlight
5 volts
AM/FM NOAA portable weather radio
2000mAh power bank USB charger
What We Like About the LED Flashlight (with hand-crank radio)
A great aspect about this product, which comes in two colors: red and yellow, is that it's multipurpose and all-around useful.
It's perfectly able to charge in an array of situations with solar, batteries, crank, and plug charging options.
Furthermore, it has a 30-day money-back promise, an 18-month replacement promise; and a lifetime customer support promise which means this company cares about its product and customers.
Plus, the radio is water-resistant (NOT waterproof) which makes it great to have when it's rainy or when you're hiking in snowy weather.
What We Don't Like About the LED Flashlight (with hand-crank radio)
Unfortunately, the battery isn't known for being the greatest nor the longest lasting.
The device can charge phones, have the flashlight on, and play the radio at the same time; however, it does mean that the battery charge doesn't hold for long and it damages the battery in the long run.
Additionally, many have mentioned this is great for situations in which the flashlight is needed for less than 24 hours.
However, for week-long situations, it might not be the best, most efficient product due to its smaller battery.
Pros
Multiple charging sources
Access to (weather) radio
USB charger
Under $20
Water resistant
Cons
Weak battery life
Not good for long periods of use
Product Highlights
Similar to the crank flashlight above, this product is solar-powered, charges devices that are USB compatible, and a flashlight. Although, it doesn't have a radio option.
Features
7 flashlight modes (200 lumens from the front and 150 lumens on the side)
Magnetic
Rechargeable via solar or USB
Water resistant
Compass
Emergency alert sound system
Safety cutter (on the side)
What We Like About the Handheld Solar Powered Tactical Flashlight
It's undeniable… this flashlight is pretty useful with all of its features.
It is reviewed as being very sturdy (even military-grade worthy according to one reviewer) and is top quality.
What We Don't Like About the Handheld Solar Powered Tactical Flashlight
Some reviewers of the product say that the magnet doesn't hold the weight of the flashlight and the charging stability is iffy.
Sometimes it doesn't charge via solar power and sometimes it won't charge via a cable.
Pros
Has tool features (compass, safety cutter, and alert system)
Water resistant
Charges a phone (or anything with USB)
Cons
No warranty or return guarantee from Amazon nor the seller
Unstable charging
Product Highlights
Energy makes the world go 'round and it's important to have access to functional energy sources in any emergency situation whether it's to charge a phone, a flashlight, cook, or keep warm with a heater.
While wind power is good, it requires energy and wind to produce.
Electrical energy isn't an option in most emergency situations.
Therefore, we are left with solar. However, don't purchase a generator without reading this first.
This portable power station is great for 2 people because it's reliable and every unit undergoes 52 reliability and safety tests… It works!
Features
2 waterproof panels
1 battery/generator
What We Like About the Portable Power Station Backup Battery & Solar Panel Power Generator
This product is strong and reliable in that after one full solar charge, the charge stays for up to 7 days.
Plus, it's incredibly powerful with 3 AC outlets that support 1000W rated power and 2000W surge power at 110V.
Furthermore, it offers a variety of ways to charge: 2 USB-C outputs with PD 18W, 1 USB-A with 5V/2.4A, 1 USB-A with Qualcomm Quick Charge 3.0, and 1 car outlet with 12V/10A.
The device itself has an incredibly well-designed battery in that after 500 full cycles of recharging (from 0% to 100%), the battery should still hold 80% (if not more) of its original capacity. This company is serious about quality.
Each product goes through 52 reliability and safety tests before being put on the market and is covered by a 5-year warranty.
What We Don't Like About the Portable Power Station Backup Battery & Solar Panel Power Generator
Due to its size, it's not powerful enough to charge large items such as refrigerators.
It ends up damaging the fridge and the generator due to a power surge between the two.
It's also rumored that the solar panels don't charge as quickly as advertised nor stay fully charged for 7 days. However, it also is important to keep in mind that each person has a different amount of sun (to charge the panels with).
Pros
Long-lasting power
Reliable
Powerful
Easy to recharge
Portable
Cons
Only for a maximum of 2 people
Costly (around $1,500 USD)
Product Highlights
While having something to charge larger items for more time is good in emergency situations, especially if you're pre-prepared for them, it's unlikely that you will need to charge large items for long periods of time.
Therefore, having a solid, surefire small charger to charge the little but important and essential things is important. This polar power bank is great just for that!
Features
All-in-one device (compact)
50000mAh capacity
4 output ports and 2 input ports – including 1 USB-C input port and 1 micro input port
Flashlight
Charging options: Solar/USB cable
What We Like About the Solar Power Bank 50000mAh
This bank is powerful with just a single, full charge.
For example, it gives 17.4 charges for an iPhone 12, 12.2 charges for Samsung S21, and 8.8 charges for the iPad mini 5.
What's more, is that it has a flashlight on the bottom side which has three features: bright mode/SOS/strobe flashlight – perfect for emergency charging and SOS situations.
What We Don't Like About the Solar Power Bank 50000mAh
Similar to the product above, the battery is known to have some charge retention issues after time and use – like with many solar products. Old review comments also mentioned that the electrical wiring between the input/output ports is flaky.
However, those were from years ago and newer reviews have commended the product on its charging ability.
Pros
Small and very portable
Multiport options
Cons
Could be heavy to carry for long periods of time at 2.5 lbs
Flaky battery life/charging abilities
Product Highlights
Almost nothing beats the smell of food cooking over a wood or charcoal-burning stove in the wilderness.
However, with wildfires becoming such a commonality, it's important to keep fires at bay. This stove is great for many reasons including fire containment, smokeless flame
Features
Foldable design
Wood Camping Stove
Utensils included: foldable fire blow pipe, tweezers, fuel plate, carabiner, barbecue grill, mesh bag for carrying
What We Like About the Mini Portable Wood Burning Stove
If you're using this stove for prepping purposes, it's important not to make yourself known nor have smoke in a tiny, underground room.
This stove's technology is ideal since it's smokeless. However, if you're outside and worried about wind putting the fire out, the built-in air circulation channel heightens the combustion power and makes this product windproof.
What's also neat about this is that the fuel can be found outdoors – it doesn't have to be store-bought which is great if you're stuck outdoors and need to cook. For example, branches, firewood, dried fruit shells, charcoal, dried animal manure, etc.
What We Don't Like About the Mini Portable Wood Burning Stove
Due to its compact size, it does mean that it isn't functional for cooking large meals nor is it great for cooking quickly and efficiently. However, it does eventually get the job done.
Pros
Smokeless technology
Easily fueled from items found in the woods
Very compact (foldable)
Cons
Fire isn't always the safest to use in emergency situations when in dry areas (woods and fields) nor when trying to hide from danger and predators
Slow to work due to small size
Product Highlights
Made from food-grade virgin polypropylene (PP) flute board, this cooker is great for all-day food cooking from sea level to the slopes of Mt. Everest.
Features
Waterproof
Included: a 14-page user/instruction manual, all required hardware, two extra-large reusable cooking bags, a folding cooking rack, and the Sunsight – a device that helps align the cooker properly
What We Like About the All Season Solar Cooker Camper
The technology used in this design helps it cook from the first ray of sunlight until the last ray of sunset.
It's quick to cook (it can boil water in about 45 minutes) and is completely green with no fuel required aside from the sun!
What We Don't Like About the All Season Solar Cooker Camper
Although overall this is a great product, it's unfortunate that it must be sunny to cook… therefore, it's not easy to cook anything if there is cloudy weather or impossible if it's nighttime.
However, one reviewer was able to successfully cook rice at 45°F with a little wind and it being partially cloudy.
Another downside isn't the product itself, but rather the art of solar cooking. It's not easy to do and requires time, instruction, patience, and a thermometer to do properly.
Pros
No fuel required
No open flame
Cons
It must be (mostly) sunny to cook
Solar cooking is a difficult art to master
Difficult to assemble (at first)
Product Highlights
Being prepared to be prepared is so important and knowing you're in good hands regardless of the emergency situation is great.
This small emergency tool kit with many pieces is great for any backpack, backup car kit, or apocalypse preparation.
Features
EMT bag made of military grade nylon
First Aid Kit
Emergency survival equipment
Fishing tools
Outdoor gear set
What We Like About the Emergency Survival Kit and First Aid Kit
Along with the wide array of items in the kits, this product comes with overall really great customer feedback. This pack comes with more items in general and some essential items that most kits don't add. For example, the extendable air-blower to start fires. Plus, this company offers 24-Hour easy-to-reach customer service just in case.
What We Don't Like About the Emergency Survival Kit and First Aid Kit
The title claims it's 200 pieces, but be careful because it's a trick: there are only 126 pieces… Another aspect that is rather negative is that it gets mixed reviews on the quality of the materials – some ex-military say it's great and well worth the price, some mountain rescue team members say it's cheaply made and not worth it.
Pros
Lightweight
Water resistant
Cons
Very small in size and therefore the items are quite small
Perhaps cheap quality of items
Product Highlights
Sometimes it's necessary to stick to the basics and not overpack… of course, depending on the situation.
If you're looking for functionality and simplicity, then this 18-in-1 pack would be the ideal kit for you.
Features
Includes: compass, survival knife, wire saw, water bottle clip, emergency thermal blanket, flintstone, scraper, screwdriver, flashlight, credit card knife, pen, whistle, mini light, carabiner, survival bracelet, needle, gauze swab, and black waterproof box
1.4 lbs
What We Like About the 18-in-1 Emergency Survival Kit
Due to its compact size, it's great for a grab-n-go kit and can fit in almost any bag for a "just-in-case" situation.
Overall, the quality is decent – especially for short-term emergency situations. However, it's definitely not up for daily tasks for years.
That said, they're cheap enough that having a few stashed around different places could be a good strategy.
What We Don't Like About the 18-in-1 Emergency Survival Kit
While the pack looks nice, it's unfortunate that there aren't designed places, spots, or nooks and crannies to organize the contents inside.
Therefore, everything is rather haphazardly unorganized. Furthermore, some people questioned the quality. However, as stated in what we like about it, it's good for short, emergency situations.
Pros
Easy-to-carry pack
Waterproof pack
Cons
Iffy quality
Unorganized pack
Final Verdict
As great and effective as ultraviolet lights or reverse osmosis water filter systems are, they require electricity normally and aren't as portable. Therefore, the first two items in this article are the better options.
Of the two, the straw, the second option, is the best as it offers more capacity to filter before needing to be changed (option 1: 65 gallons, option 2: 100,000 gallons).
Therefore, it's also the cheaper, more economical option.
It's also a good idea to have a rain barrel or bucket around, too, to catch any extra water and filter it.
When it comes to lighting, having the best and most versatile thing is necessary for an emergency situation. The LED Flashlight, item number 4, is the best bet.
Not only does it have a great handheld flashlight, but it's powered in multiple ways, has a USB/phone charging feature, and a radio.
Although, the battery won't hold well if you use it for one purpose at a time (not all three simultaneously).
In the end, whether you're a family of two looking for a mega power supply such as with the Generark model (number 6) or a smaller supply that can charge your phone or smaller electronics, look no further than the PSOOO store smaller model (number 7).
While the wood-burning cooker stove is a good idea and handy considering it's so little in size and therefore portable, it could become difficult to fuel with alcohol, wood, or charcoal if supplies are tight.
Therefore, it's best to go with the solar option considering the sun goes everywhere and you don't have to fret as much about what fuel you will use and where you will get it from.
Although, it's important to think of the downfall with solar: cloudy and rainy days.
It never hurts to be prepared and having quality can be difficult to get when trying not to break the bank… especially when it comes to tools.
If you're looking for something complete, compact, and could be good for years, number ten with 126 pieces in it is the one to go with.
However, if you're looking for something smaller and good to have around just in case, item 11, the 18-in-1 tool kit is definitely the one to go with.
Also, take a look at what bug out bag essentials in this article here to compare what you want in your kits and bug out bags.
Check out other related article
---
Bonus: Root Cellar That Can Be Used as a Bunker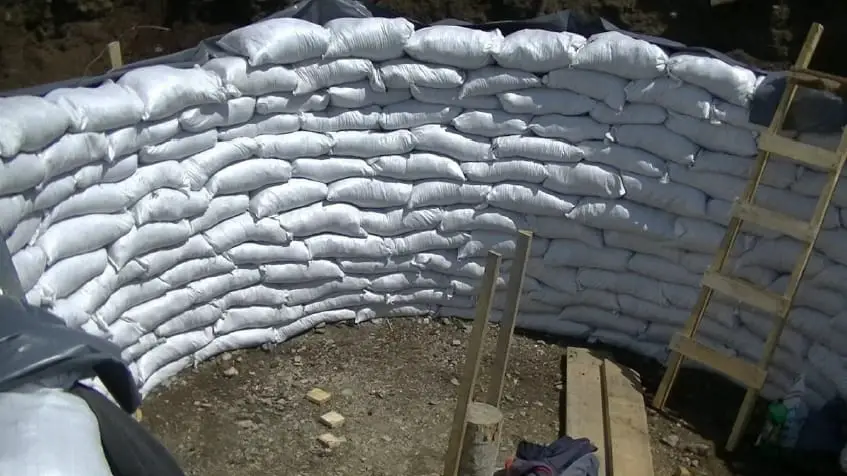 Do you remember the old root cellars our great-grandparents used to have? In fact, they probably built it themselves, right in their back yard.
If you want to learn how to build a backyard bunker like your grandparents had, without breaking the bank, then you need Easy Cellar.
Easy Cellar will show you:
How to choose the ideal site
Cost-effective building methods
How to protect your bunker from nuclear blast and fallout
How to conceal your bunker
Affordable basic life support options
Easy Cellar will also reveal how a veteran, with only $421, built a small nuclear bunker in his backyard.
Also included: