SHTFPreparedness may collect a share of sales or other compensation from the links on this page.
There is certainly a bit of bargain hunter in all of us who are preppers. There is just not getting around that one. Its not to say that there is anything wrong with it but we know the rush that comes from finding just the right item at a steep discount. This could be the reason we frequent gun shows and army surplus stores.
However, deeply discounted items are sitting on racks all across American right now. If you know where to look and when it can make all the difference. Of course, the problem with where and when is there are also anomalies. You can find great items to stockpile on your next visit to a store.
One such situation involved a whole shelf of deep discounted sun tan lotion and bug spray. In one of the most popular departments stores of them all this collection of items was just sitting, untouched on a clearance rack.
Finding the Clearance Section
Almost every store has one. You just have to find it. Some store owners get a little sneaky with how they structure their clearance sections. Target can be pretty sneaky and place clearance items on end caps of rarely visited aisles. Walking the perimeter of the store can help you find there.
Seeking out the Right Items
When you are standing in front of the clearance rack its easy to buy the things you need and lost of other things you don't. You have to exercise some self control while you are shopping for these items.
Not Going Overboard
While you might come across the motherload of prepping items its important to remember your budget. Be careful not to go into debt over finding the right selection of tools, resources of other items on a clearance rack.
Stockpiling a little extra will go a long way. If you buy 2 hammers because they are on sale, that's a good move. If you buy all 10 it might be going overboard.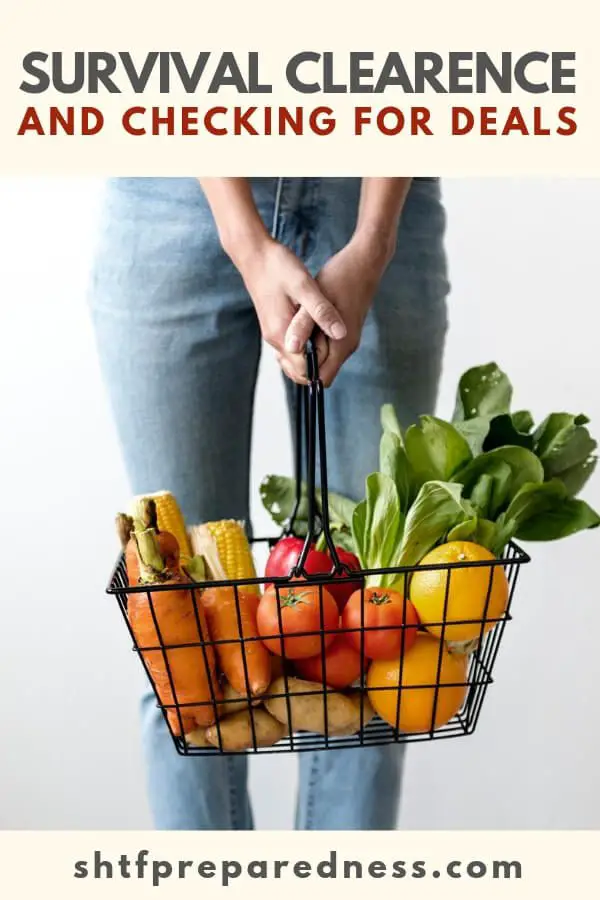 ---
Bonus: How To Grow a Backyard Supermarket
Having a backyard supermarket will allow you to grow pork and beef, chicken, organic eggs, non-GMO fresh fruits and veggies, including all the essential components you need to make your food staples, desserts, and even drinks.
If you are willing to put in a little elbow grease, this isn't too good to be true. The good news is that some of this can be automated.
Our great-grandfathers and great-grandmothers did this every single day. It's called "homesteading", and it can help you save money on food, furniture, tools, clothes, and much more!
This is as self-sufficient as it gets. Watch this eye-opening video to learn more:
Homesteading will take you back to the roots of your ancestors. It's not only a healthy, stress-reducing pursuit, it's a lifestyle.