SHTFPreparedness may collect a share of sales or other compensation from the links on this page.
It's easy to underestimate the cold. We dont live in it. Even when it's bitter cold out, we rarely have to deal with it. We are talking about moving from one temperature controlled environment to another. When was the last time you spent over 4 hours in really cold weather?
This lack of experience can often lead to a lack of respect for the danger. Its a lot like people who go galavanting through the woods and wind up lost. They didn't respect the environment.
The cold creeps up on you in the same way.
The Worst Case Scenario
When you are in cold winter weather the situation cannot get as dire as falling into a frozen lake or river. When your body is saturated in the icy winds it can be very ugly. That situation is exacerbated by the fact that you are surrounded by an environment that doesn't lend itself to fire.
Your only chance is to get out of the water ASAP and to get fire going. You also have to get naked! Your wet cold clothes could kill you.
How do you quickly get a massive fire going around you to warm you?
The Steps to Take
First, you need to get out of the water. You cannot touch the ice directly or you may stick to it. That can be a serious problem. Gather snow or use your boots or clothes to separate your skin from the ice.
Get inside quickly unless that is not an option.
If you cannot get inside you are going to have to get fire starting implements and fuel together. This has to happen fast.
This is why Ferro rods are so important. Hopefully, you have some tinder that is in a waterproof container, if not you need to find some fast. It's not going to be easy. Look for birch bark.
If you can get a fire going can use that heat to warm yourself. Be sure you build the fire in a place that blocks the wind.
Be sure that you take off your clothes and stay close to the fire. If you can seek shelter and build a fire in the natural shelter that would be optimal.
It takes a serious fire to dry clothing so you will need to really fuel this fire. Either way, you will live if you have a hot fire.
---
Bonus: Root Cellar That Can Be Used as a Bunker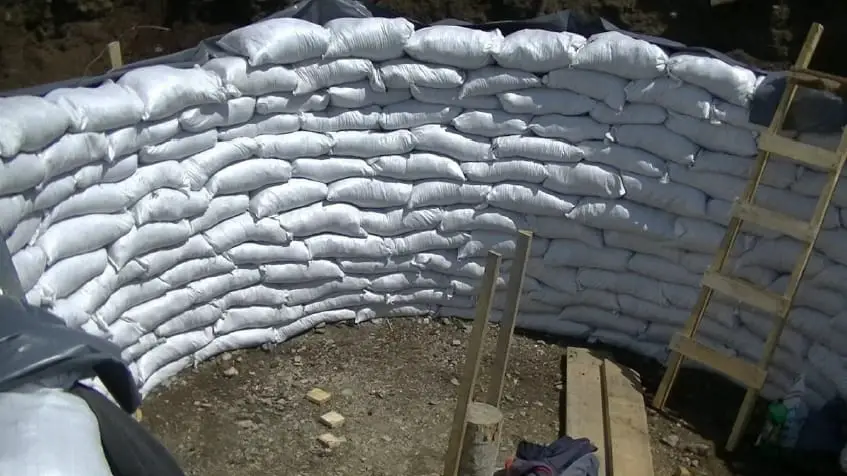 If you can't afford the box culvert option you can look into is building a backyard root cellar that can be used as a bunker.
If you want to learn how to build a backyard bunker like your grandparents had, without breaking the bank, then check out Easy Cellar.
Easy Cellar will show you:
How to choose the ideal site
Cost-effective building methods
How to protect your bunker from nuclear blast and fallout
How to conceal your bunker
Affordable basic life support options
Easy Cellar will also show you how a veteran, with only $421, built a small nuclear bunker in his backyard.