SHTFPreparedness may collect a share of sales or other compensation from the links on this page.
If you want to really be prepared for any survival situation, cheap cabin kits need to be on your radar.
This could be the perfect bug out location, emergency shelter, or tiny home. You can find cheap cabin kits starting at $3,860, which we will show you later in this post.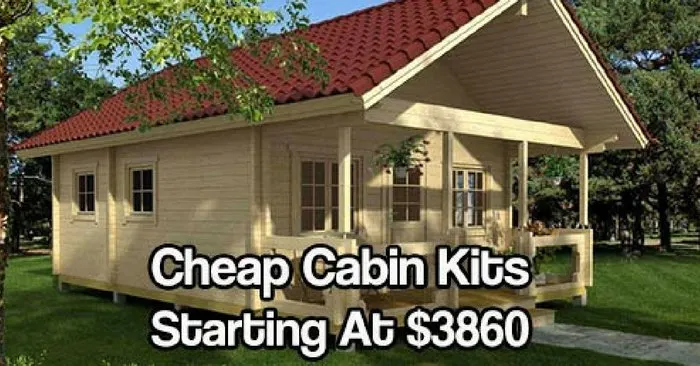 Have you ever thought about having a cabin to stay in for a vacation or getaway? Have you been planning to downsize and live in a tiny home, or smaller place for yourself? Or maybe like the rest of us here, you want to be ready when SHTF?
A cabin kit is a cheap alternative to other small homes or emergency homes. It can be a great place for you to go on vacation or getaway. It can also be there for you in the event of an emergency.
Planning To Build A Shed? Now You Can Build ANY Shed In A Weekend Even If You've Zero Woodworking Experience! Click here to find out.
If you put your cabin kit up in an isolated area, you have great chances if SHTF. No one will know you're there. And if you've stocked it up with great supplies, you could be set for the long haul when needed.
Would you like to have a small cabin someplace off the grid that you can retreat to when needed? Let's take a look at the types of cheap cabin kits available. This will help you decide which is best for you and your needs.
Considering Cheap Cabin Kits
What a lot of people don't realize is there are many websites out there that can sell you cheap cabin kits. You need to know what's included and what you need to do to build your kit before you consider this option.
First, the cabin kit will come with the whole cabin, including doors and windows. However, it will all be in a disassembled form. This means you have to put it together yourself. DIY time!
They are designs to be fairly easy to assemble (that's the whole point of the kit) and two adults can usually get a cabin built in a day.
If you take a lot of breaks, it might take you two days, but even that is not a lot for what you will get. That's great efficiency for building and another reason they are so popular.
If you are a DIYer, this can be a dream situation for you. What better way to learn self-sufficiency than building your home with your own two hands, without having to actually cut down the trees yourself?
Cheap Cabin Kits
For me, a kit is a perfect way to own a cabin. You pay a lot less because you are not paying the company to build it for you. You can get the cabin in the picture above for $3,860 at the time of this writing.
That is a great price! If you are lucky enough to have land to build a cabin like this, it's going to make all the difference. And since it's small and doesn't take a lot of space, you could even get a small piece of land to put it on.
This company also offers different kits such as:
Garden sheds
Saunas
Pool houses
If that interests you, too. All of the kits on the site are made from quality timber and do not require internal finishing. You might find yourself really enjoying the process of putting the kits together.
Before you buy, you may want to search for buyer's guides for log cabin kits. It will provide useful information about building permits, wiring, plumbing, general pros and cons and many other things you probably didn't think of.
Now that we've covered the basics of cheap cabin kits, we want to take some time to go over the different types of cabins you can get in kits. It's not all a one-size-fits-all process. Let's look deeper at one of the most popular options: log cabin kits.
Cheap Log Cabin Kits
Have you always wanted to live in a log cabin? Cheap log cabin kits might be just what you need. They are reminiscent of rugged early American homes.
They are attractive, useful, and available from so many different places that you will have more selection than anywhere else or any other type of cabin kit. There is a reason that log cabins worked for so long and still work today.
If you're in an SHTF situation, a log cabin is a very valuable and useful place to hole up and keep yourself safe and warm. There are many places to find these cabin kits, but I'm going to show you a few examples.
Coventry Log Homes offers more than 60 models of Energy Star-rated log homes. If you're looking for cheap log cabin kits, definitely consider them.
Conestoga Log Cabins offers a wide range of log cabin designs and is another we highly recommend. They have beautiful, useful kits.
Still another option is Southland Log Homes. They a huge library of log home and cabin plans, all of which can be customized to your needs and built yourself when you order the kit.
These are just a few ideas to get you going but with some research, you'll see there are many more log cabin kits available.
A-Frame Kits
Another option for cheap cabin kits is A-Frame kits. As the name implies, these kits allow you to build A-frame houses. Just like the other cheap cabin kit options, prices can vary.
Depending on the size of your cabin and the types of materials used, you could be looking at anything from a couple of thousand dollars to tens of thousands of dollars.
For many people today, it's a great investment since you can use it as a backyard retreat, a writer's cabin, a kids' playhouse, or even guest quarters. However, should an emergency situation occur, it will be there for you then, too.
Prefab Kits
You can use prefab kits to build your own emergency shelter in case SHTF, or just a getaway for in the meantime. The kits can range anywhere from $1,500 to $25,000 or more.
The pricing on prefab cabin kits depends on many factors such as size, materials used, windows, and more. When doing your research first, think about what you're going to use your cabin for. This will help you plan what size you need to buy and how much space you will need in it.
If you're a prepper who wants to be prepared for any situation, getting familiar with cheap cabin kits and even buying and building one for yourself is the way to do it.
Prepping with Cheap Cabin Kits
Now you can see how prepping with cheap cabin kits is very useful to you. After looking over the various options for cheap cabin kits, is there one that stands out to you the most? Do you think you'll buy and build one for yourself?