SHTFPreparedness may collect a share of sales or other compensation from the links on this page.
The cold is a nasty beast. It's one of the ugliest situations you can find yourself in. Perhaps cold unrelenting rain is about as ugly as it gets. Particularly, without shelter!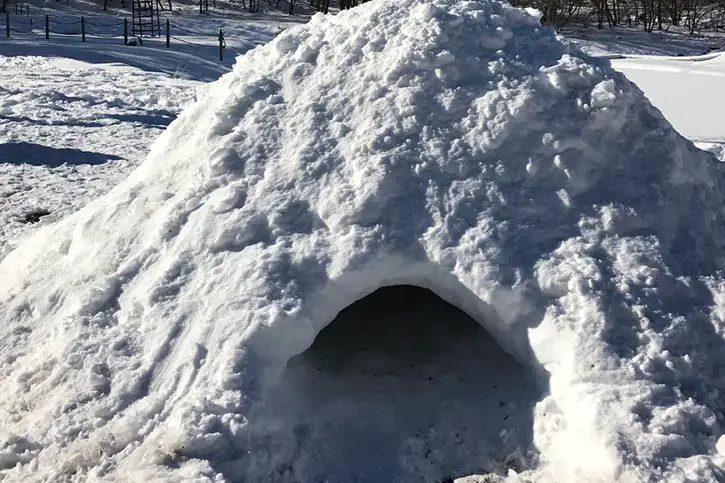 In the unrelenting heat, you can certainly suffer. It's hard to sleep and you slowly dry out! However, the cold hurts and it's vast and hard to escape. The night does not relent instead it only gets colder!
If you find yourself in a frozen tundra and you are lost, what is your best means of building a shelter to survive?
Building a Snow Cave
The temperature difference in a snow cave can be substantial. It allows you to trap more of your body heat and it will also protect you from the brutal winds and precipitation outside.
All of these things can be life-saving if you are dealing with freezing temperatures, wind, and bad weather.
Finding a proper location is paramount. You do not want to be in a valley or in an area where more snow could fall on your cave and crush it. High ground is better but its not a bad idea to have some land features around you to help block the wind.
Test the snow. You need densely packed snow. If you are in loose snow, just pile it up and wait for an hour or so. Particularly in the sun, it will get denser once it's piled upon itself.
Make a pile of snow that will just fit you and whoever else is seeking shelter. The more space there is the colder can get in.
Stick a ski pole or stick in the center, at 12 O' Clock. This will allow you to easily find the center and shape it when you start digging.
You can pour some water around the cave to make it more structurally sound.
Be sure that you bring your shovels inside the cave, in case of a collapse.
You could add benches, insulation on the ground or some holes for ventilation
It's not a long term shelter but it will help you out in the worst case scenario.