SHTFPreparedness may collect a share of sales or other compensation from the links on this page.
If you live in an area prone to severe storms, then hurricane preparedness is crucial. A good plan of action can go a long way in keeping your family safe and limiting property damage. Thus, you need to start prepping when the hurricane season is around the corner.
In case you are new to a hurricane-prone area, you may have limited knowledge of how to prepare for one. This guide contains all the information you will require on how to survive a hurricane.
Secure the Main Points Around Your Home
Each year, hurricanes can rack up to $34 billion in residential damage. This is all the incentive you need to do a good job of securing your home before the storm hits. So, how can you go about doing this?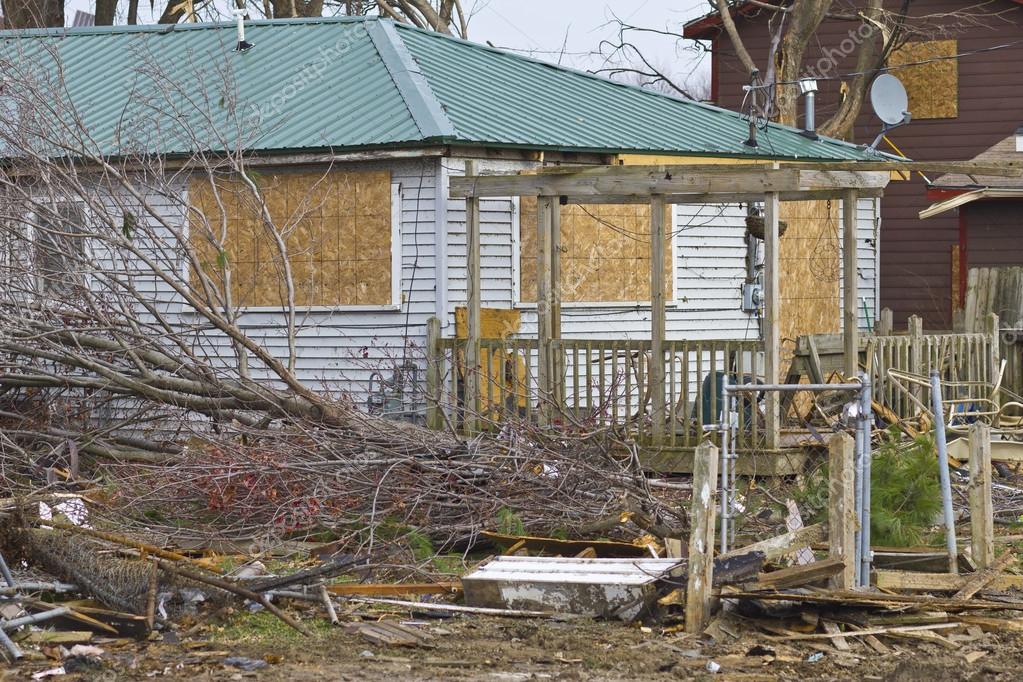 Windows
To begin with, board up the windows. Storm shutters often do the best job of keeping your windows shut. However, boarding up the windows is a good strategy as well. Whatever you do, though, don't place tape on the glass panes. Despite popular opinion, this trick doesn't work.
You should also check the caulking around your windows. It should be intact and not cracked or broken. Filling any gaps will prevent rain from getting in and causing water damage inside the house.
Doors
The next item on your hurricane prep list is the doors. Here, several locks or a strong deadbolt should do the trick. This step is particularly important for flimsier doors around the house.
As for your garage door, make sure to reinforce it well. This will prevent the wind from getting in and creating pressure against the roof.
Roof
A homeowner's biggest concern during a storm is the roof. You may want to consider investing in some hurricane straps.
Even then, you should check for any loose shingles on your roof and reattach them securely. Otherwise, they may turn into projectiles during the storm.
Pay Attention to Exterior Features
It is just as important to pay attention to the external portion of your property during hurricane prep.
For instance, you should clear out your gutters and downspouts. Check that the water has a clear path to flow down. This way, it won't be misdirected towards the interior of your home.
It is essential to trim trees and shrubs around your house. Keep in mind, when the wind picks up, these plants can often turn into projectiles. In turn, they could cause quite a bit of property damage. This is why you will find this step in any "how to survive a hurricane" strategy.
Find Your Safe Room
There is a possibility that you and your family will have to remain indoors during a storm. Thus, as part of your hurricane preparedness plan, you will need to locate a suitable safe room. This is where you and your family will hunker down until the storm passes.
According to experts, the safest place to be is an interior room on the first floor of your home. It is best to select a smaller space with as few windows as possible. In many instances, bathrooms are the safest choice, especially since they have a reinforced structure.
In case you are wondering how to survive a hurricane in an apartment, there is an answer to this as well. People living on the first floor should find an interior room with no windows. If you live on an upper floor, however, you will want to move to the lowest possible level to stay safe.
Stock up on Supplies
There is a chance that you may need to stay in your home for up to a week.
Not to mention, most stores will be closed in the aftermath of a storm. Thus, a key element of hurricane preparedness will be to stock up on the necessary supplies.
Water
Water should be a vital item on your hurricane prep checklist. As a rule of thumb, assign a gallon of water per day for everyone in your home. Remember to stock up on water for any pets you may have too.
When it comes to water, there isn't such a thing as too much, so additional stores can help. It's also critical to learn how to purify water in the event of a longer-term event.
Food
When it comes to hurricane preparedness food is another essential item. In particular, collect non-perishable foods. These include energy bars, canned items, and anything else that doesn't require refrigeration or special storage.
You may also want to focus on high-energy items such as nuts, dried fruit, peanut butter, and crackers. The food should last each person at least seven days.
Also, remember to pack a hand-powered can opener. 
Medication
Just like stores, pharmacies will be closed as well. Therefore, you must have your prescription filled out beforehand. After all, an important component of how to survive a hurricane is to stay healthy. Taking your medication as recommended will ensure that you do.
Put Together a Hurricane Preparedness Kit
These days, there are actually many hurricane preparedness kits available for sale.
Wise Food Emergency Survival Backpack Kit, Great Go Bag For Hurricanes, Fires, Earthquakes – Black
However, if you want to make certain that you have everything you require, it is best to set it up yourself. Here is what you must tick off your checklist for hurricane preparedness.
You can also check out our 'Free Survival Gear' page. You can usually find items on our list that would be extremely useful in an event like a major hurricane, and all you pay is shipping.
Battery Powered Radio (with solar and hand crank options)
A key tool in your hurricane survival kit should be a battery-powered NOAA weather radio. This is because you need to stay updated on what is going on at all times.
A weather radio can be useful for the following reasons:
Updates on the direction and severity of the storm
Notifications about a storm surge
Evacuation orders
To know when it is safe to venture outside
So, get the radio and stock up on batteries.
If you aren't familiar with how a weather radio works, learn how to operate it before the storm hits. You will then be fully aware of the situation.
RunningSnail Solar Crank NOAA Weather Radio for Emergency with AM/FM, Flashlight, Reading Lamp and 2000mAh Power Bank
Two-Way Radio
There is a chance that you haven't used a two-way radio since you were a kid.
However, when cell towers go down and there is no Wi-Fi, you can't just rely on your smartphone. This is where a good walkie talkie comes in handy. It can often be your biggest lifeline during emergency situations.
Since walkie talkies convert your voice into radio signals, they aren't affected by bad weather. What's more, since it is a general form of communication when SHTF, there are numerous channels for you to tap into. This makes them an indispensable part of your hurricane preparedness plans.
Midland GXT1000VP4 50 Channel GMRS Two-Way Radio – Up to 36 Mile Range Walkie Talkie – Black/Silver (Pack of 6)
Flashlight (and Extra Batteries)
Since there is a good chance that the power will go out during the storm, you will require an abundance of light sources. Typically, every member of the family should have at least one flashlight with them. They must have a pack of additional batteries too.
For communal areas, you may want to opt for a larger light source, but remember to keep backup batteries for these as well.
Glow sticks can come in quite handy, especially if you want to alert rescuers to your precise location. So, include these items when hurricane prepping.
GearLight LED Tactical Flashlight S1000 [2 PACK] with Holster – High Lumen, Zoomable, 5 Modes, Water Resistant, Handheld Light – Best Camping, Outdoor, Emergency, Flashlights
12 Ultra Bright Glow Sticks – Emergency Light Sticks for Camping Accessories, Parties, Hurricane Supplies, Earthquake, Survival Kit and More – Lasts Over 12 Hours (Green)
First Aid Kit
Taking the necessary precautions should ensure your safety to a certain degree. You can easily get a ready-made first aid kit online, or go the DIY route and put it together yourself with all your favorite fixin's.
Since you can't take any chances, it is important to keep a first aid kit on hand. Some hurricane emergency supplies to include in this kit are:
Different kinds of bandages
Saline solution
Wound cleaning agents
Antibacterial ointments
Burn ointments
Scissors
First Aid Kit – 170 Pieces Hard Case and Lightweight – Includes 2 x Eyewash, Instant Cold Pack, Emergency Blanket, CPR Face Mask for Travel, Home, Office, Vehicle, Camping, Workplace & Outdoor (Red)
Sanitation Supplies
As you may have to remain in one room for a number of days, it is important to have the proper sanitation tools with you. Some of the items to put on your hurricane preparedness list are:
Toothbrushes
Toothpaste
Moist towelettes
Deodorant
Soap
Shampoo
Reliance Products Hassock Portable Lightweight Self-Contained Toilet (Colors May Vary)
Reliance Double Doodie Toilet Waste Bag 6 Pack
Garbage Bags
Garbage bags are great for virtually everything. If you do end up spending several days in a confined space, you will have quite a lot of waste to dispose of. So, a collection of garbage bags will always be useful.
Water Filtration System
This is simply a precaution, but you should stock up on this item during hurricane preparation, nevertheless.
If you run out of bottled water or if your water supply is tainted in any way, a water filtration system can help. This is especially important if you have small children with you.
IMP6X2-BB Imperial Berkey with 2 Black Filters and 2 Floride Filters
Hurricane Supplies for Kids
Speaking of kids, if you have very young children in your family, then it becomes even more vital to stock up on important supplies.
For babies, you will need baby formula, baby food, diapers, clothing, and other items that can last at least a week. Since you can't carry your baby around all the time, some kind of carrier is advisable as well.
With older children, your main concern would be keeping them distracted and entertained. So, try to bring some toys and board games with you. It is a good idea to have some blankets and cushions to construct a makeshift bed for them as well.
Hurricane Supplies for the Elderly
If there are individuals over the age of 60 living with you, then you need to make special arrangements for them.
Consider what they may use or rely on, on a regular basis. These could be specific medications, foods, or access to medical products. Try to find a way to accommodate these requirements.
When in doubt, it is best to consult a doctor to determine just how you can help your older relatives in such a situation.
Hurricane Supplies for Pets
Of course, you can't forget about hurricane preparedness for pets.
Your animals need supplies just like you do. So, make it a point to stock up on food for as long as you expect to stay inside. To keep things hygienic, kitty litter and puppy pads are a good idea as well.
Now, there is a chance that you may be separated from your pet at some point. So, keep an identifying collar on them at all times. This will make it easier for you to be reunited with them later on.
Gather Important Non-Replacement Items
One of the top tips for hurricane preparedness is to gather up valuable documents that can't be easily replaced. This includes birth certificates, marriage certificates, driver's licenses, medical instructions, and more.
You may also want to keep some cash with you since you will not have access to an ATM machine or bank for a while.
Then, place all these items in a watertight bag or box. The container should be portable so that you can carry it with you wherever you go. Keep these items by your side at all times. Thus, if you need to evacuate, you can pick them up on the fly.
Have an Evacuation Plan
As mentioned, there is a possibility that you and your family may need to evacuate your home. To ensure that everything goes off without a hitch, come up with a good hurricane emergency plan.
The first thing you will have to do is familiarize yourself with all the exit routes out of your city and state. Find a physical map and plot your route. Remember, GPS may not be an option during the storm so you are going to have to get used to following these.
Then, it is simply a matter of staying on top of hurricane awareness during the storm. This, coupled with public announcements will give you an idea of when you need to leave. Always heed the warnings of your local authorities.
Surviving Winter Storms
You may find yourself facing winter storms instead of hurricanes. The good news is that the above tips can be just as useful when dealing with winter storms as well. Of course, you will need to make a few minor adjustments.
In particular, make sure to stock up on lots of warm clothing and blankets. This will keep you warm when the weather plummets. You should be especially careful if you have very small children or very old people in your family as they may be more susceptible to the cold.
Conclusion
Well, this concludes what you need to know about how to survive a hurricane. The next time the storm season rolls around, you will know the exact precautions to take. In turn, you will be able to safeguard your family and your home.