SHTFPreparedness may collect a share of sales or other compensation from the links on this page.
Blake Foster was driving through a storm in Grapevine, Texas, on Tuesday, when extra to globs of rain, his car was pelted with debris, including a trash can and an umbrella.
While it was later confirmed that a probable tornado had swept through the area and injured at least five people, Foster evidently had his suspicions in the moment.
KDFW reported that Foster, who had been headed home, spotted trouble ahead and let it pass.
In the video of the encounter, Foster can be heard calmly noting that the storm is "coming right across" the street.
The agent of destruction and disorder ignored traffic signals and barreled right into Foster's Toyota Tundra, made in Texas.
Amid flashes of light, the drumroll of debris against his vehicle, and diminished visibility, Foster announces, "I'm in a tornado."
Having been spared, the motorist pointed out the ruins on his left, noting the storm "just took out this car wash."
According to KDFW, people were trapped under the damaged car wash at the corner of Northwest Highway and Dove Road.
Grapevine Mills Mall and Sam's Club were similarly damaged.
Photo from inside the Sam's Club in Grapevine. Thanks to Rosa Kerr for the photo. pic.twitter.com/q4j3rF7Ddp

— DFW Scanner (@DFWscanner) December 13, 2022
Power lines in Grapevine were also whipped about.
Tornado damage from this morning at Bus-114 and Dove in Grapevine, TX pic.twitter.com/8pEIQUo3PZ

— Texas Storm Chasers (@TxStormChasers) December 13, 2022
The National Weather Service has confirmed that six tornados rocked Northern Texas on Tuesday, touching down in Northeast Tarrant County, Wise County, Lamar County, and in Forth Worth.
While only six have been confirmed so far, Northern Texas may have been swept by as many as 12 tornadoes on Dec. 13.
Here's a PRELIMINARY look at the damage areas from possible tornadoes across N TX today. As of 4 pm, 5 tornadoes are confirmed via video/eyewitness evidence. Storm surveys have begun, but many will be completed Wednesday. Potentially 12 tornadoes may have occurred. #dfwwx #txwx pic.twitter.com/ZhmKb25JGx

— NWS Fort Worth (@NWSFortWorth) December 13, 2022
NWS meteorologist Jason Dunn told Axios that on account of the humidity in the air, the wind shear, and the arrival of a cold front, "It's not completely uncommon to get tornadoes in December. Any time you get those ingredients together, it can happen any time of the year."
A trail of destruction
In recent days, much of the nation has been swept by treacherous storms, but perhaps nowhere with greater kinetic consequence than in Northern Texas, Southern Oklahoma, and Louisiana.
The Associated Press reported that two people were missing after a tornado tore through Louisiana, just 10 miles outside Shreveport.
The Caddo Parish Sheriff's Office indicated that a boy had been found dead near Keithville, Louisiana, where his home once stood.
Caddo Parish Sheriff Steve Prator told KSLA, "We couldn't even find the house that he was describing with the address. Everything was gone."
A woman was also found dead nearby.
KSLA reported that 25 were injured in Farmerville, La. Entire buildings were razed:
TORNADO DAMAGE: New photos just in from Union Parish, LA. Major damage left behind after the tornado trailed through earlier. Several reports of injuries have already been made. #lawx #wxtwitter pic.twitter.com/kJo8yEM02C

— Jake Lambright (@jakelambright) December 14, 2022
Storm chaser Mike Scantlin captured some of the damage done by what NWS confirmed to have been an EF2 tornado in Wayne, Oklahoma, on video:
Drone video from storm chaser @theScantman shows significant damage in Wayne, Oklahoma, following this morning's EF2 tornado.
LIVE blog: https://t.co/BBgxmWuihm pic.twitter.com/jatOKARjKA

— AccuWeather (@accuweather) December 13, 2022
Despite the damage in Wayne, no one has been reported killed.
Ron Johnson, McClain County Emergency Manager, told KFOR that Wayne got off lucky. "We actually really got blessed. … This could have been a lot worse," said Johnson.
---
Bonus: Root Cellar That Can Be Used as a Bunker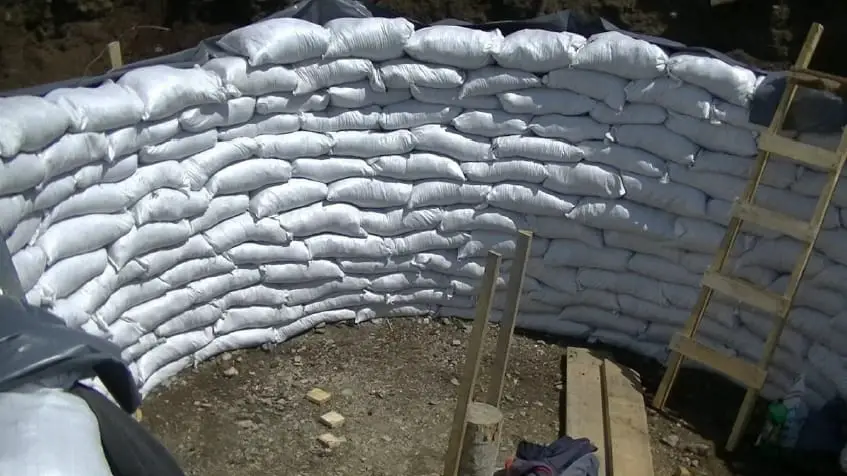 Do you remember the old root cellars our great-grandparents used to have? In fact, they probably built it themselves, right in their back yard.
If you want to learn how to build a backyard bunker like your grandparents had, without breaking the bank, then you need Easy Cellar.
Easy Cellar will show you:
How to choose the ideal site
Cost-effective building methods
How to protect your bunker from nuclear blast and fallout
How to conceal your bunker
Affordable basic life support options
Easy Cellar will also reveal how a veteran, with only $421, built a small nuclear bunker in his backyard.
Also included: